The Pentagon has announced nominees to serve as the next leaders of the Defense Information Systems Agency (DISA) and the Joint Artificial Intelligence (JAIC).
Air Force Maj. Gen. Rob Skinner has been tapped for the dual role of leading DISA and Joint Forces Headquarters-Department of Defense Information Network (JFHQ-DoDIN), the Pentagon said Friday. Skinner will succeed Navy Vice Adm. Nancy Norton.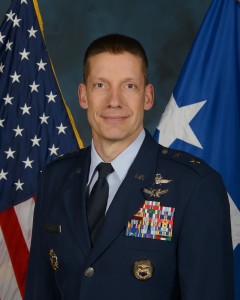 Skinner, who will be promoted to lieutenant general, currently serves as Indo-Pacific Command's director for command, control, communications and cyber, and before that served as the head of Air Forces Cyber and as deputy Air Force leader at JFHQ-DoDIN.
DISA is getting set to open up the competition for a potential $12 billion, single vendor contract to consolidate the Pentagon's 'Fourth Estate's' network capabilities, with a contract award planned for December 2021 (Defense Daily, Sept. 3).
On Sept. 10, the Pentagon said Marine Maj. Gen. Michael Groen has been nominated to serve as the next director of the Joint Artificial Intelligence Center.
Groen, who is currently the NSA's deputy chief of computer network operations, would be promoted to lieutenant general and take over as JAIC's second permanent leader.
If confirmed, Groen would exceed Nand Mulchandani, a former Silicon Valley executive and the organization's chief technology officer, who has led JAIC since June following the retirement of Air Force Lt. Gen. Jack Shanahan.
Mulchandani recently detailed plans for a 'JAIC 2.0' business model, which looks to leverage lessons learned from initial lower-risk projects and applied to new projects ranging from battlefield AI to cyber operations tools (Defense Daily, July 8).