The Pentagon's Joint Artificial Intelligence Center (JIAC) is working on a refined business model as it enters a new phase focused on delivering tools across the Pentagon and placing joint warfighting operations as its top priority, the organization's new leader said Wednesday.
Acting Director Nand Mulchandani detailed the vision for 'JAIC 2.0' during a press briefing, which looks to leverage lessons learned from initial lower-risk projects and applied to new projects ranging from battlefield AI to cyber operations tools.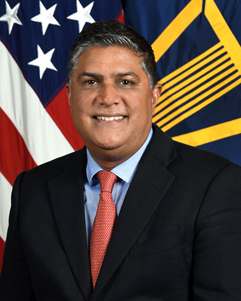 "When the JAIC was stood up in 2018, the focus was on picking low technology risk areas but solid payoff projects, in areas such as disaster relief and predictive maintenance. These products are now maturing and we're working closely with the services and combatant commands to transition these products into production and delivering value, such as the H-60 engine health model that's now in production at SOCOM and other announcements that we'll be making in the future," Mulchandani told reporters. "We're now in an even stronger position to operationalize those lessons learned, drive scale and catalyze long-term change in the DoD through AI."
Mulchandani, JAIC's chief technology officer, took over the leadership role in June following the retirement of Air Force Lt. Gen. Jack Shanahan, who had served as the organization's first director (Defense Daily, June 4).
JAIC's current set of six "national mission initiatives," according to Mulchandani, are now focused around Joint Warfighting Operations, Warfighter Health, Business Process Transformation, Threat Reduction and Protection, Joint Logistics, to include predictive maintenance efforts, and a new Joint Information Warfare effort that covers cyber operations.
Shanahan had named development of warfighting capabilities as the top priority over the next year, with Mulchandani affirming that commitment and noting JAIC will spend more on the Joint Warfighting effort in FY '20 than its five other initiatives (Defense Daily, May 21).
In May, JAIC selected Booz Allen Hamilton [BAH] for a five-year, potential $800 million task order to deliver AI-powered capabilities for use on the battlefield, which was the organization's largest contract award to date (Defense Daily, May 18).
"The list of companies supporting the JAIC and the Joint Warfighting Operations [initiative] now includes not only many of America's largest and most recognizable technology companies, but also a host of innovative defense technology start-ups as well," Mulchandani said.
Mulchandani also noted JAIC's Project SALUS, which went from "concept to code" in a matter of weeks, providing an AI-enabled common operational picture interface for U.S. NORTHCOM to assist in supply chain management support for the federal response to COVID-19.