The Pentagon's top acquisition official on Wednesday detailed a new focus toward bolstering the domestic supply chain for microelectronics fabrication and rare earth mineral processing.
Ellen Lord, the under secretary of defense for acquisition and sustainment, said during a Brookings Institution discussion that the pandemic has specifically exposed vulnerabilities in the supply chains for those two areas.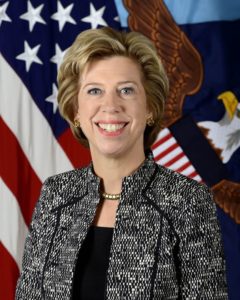 "One of the silver linings, frankly, to COVID has been the fact that there's a much larger awareness of issues we have with our supply chain being offshore with potentially adversarial countries. So what we now have is a much larger awareness throughout the U.S., and I think the world as well, as to the challenges we particularly have with China," Lord said. "Now we have interest in actually making sure that we understand the fragilities in our supply chain, and that we make sure we reshore as much as possible and also have partners and allies supporting us wherever possible."
Lord said the focus to "re-shore" competition would start initially with bringing competition back to the United States, before exploring opportunities to expand supply chain partnerships with allies and partners.
On microelectronics, specifically, Lord added that challenges with intellectual property will require a priority on shoring up the domestic supply chain.
"We just found with microelectronics we have gotten ourselves into a potentially compromised position where we have U.S. intellectual property, in terms of designs, going offshore for fabrication and packaging, leaving us with some vulnerability there that is unacceptable moving forward," Lord said.
The Pentagon's technology office said recently it has shifted its top modernization priority from hypersonics to microelectronics, with plans to move away from its "trusted foundry" model toward a "zero trust" approach (Defense Daily, May 19).
USA Rare Earth, LLC announced in April it had acquired a domestic manufacturing capability to allow it and its partners to mine, process and produce rare earth magnets and related materials in the U.S., thereby reducing dependency on China (Defense Daily, April 7).