The Army on Friday conducted the first flight of the modernized UH-60V Black Hawk, which is a retrofit of the UH-60L upgraded with Northrop Grumman's [NOC] 'digital cockpit' suite.
"The Corpus Christi Army Depot (CCAD) had its first flight of [the] newest configuration of the Army's UH-60 Black Hawk helicopter. Since its original induction as a UH-60 Lima (L model) airframe, CCAD configured this helicopter into the current UH-60 Victor (V model)," CCAD said in a social media post.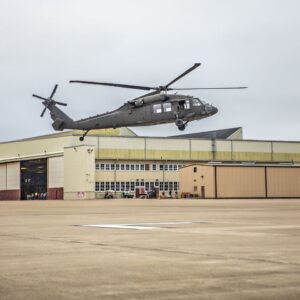 While the Army flew a prototype model of the UH-60V in January 2017, the flight on Sept. 11 was the first with a fully-upgraded model.
CCAD is responsible for the reconfiguration and refurbishing to upgrade the UH-60L Black Hawk to the UH-60V model.
In April, the Army completed initial operational test and evaluation for 'digital cockpit' upgrades for the avionic suites to be integrated on UH-60Vs (Defense Daily, April 22).
Northrop Grumman's 'digital cockpit' suite is designed to increase pilot awareness and enhance navigational functionality by moving from an analog architecture to a digital infrastructure enabling a pilot-vehicle interface.
"It is designed with a secure, open architecture that provides greater mission flexibility and a rapid upgrade path," James Conroy, the company's vice president for navigation, targeting and survivability, said in a statement from April.