Northrop Grumman [NOC] and Lockheed Martin
[LMT] said Tuesday the latest version of the AN/APG-78 LONGBOW Fire Control Radar for the Army's AH-64E Apache helicopters has successfully completed Follow-On Test and Evaluation II.
The two companies, under the LONGBOW joint venture, said the upgraded fire control radar demonstrated a new 360-degree surveillance mode and a detection range twice as long as the previous version.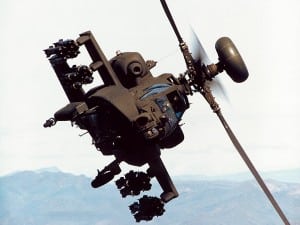 "Our open systems architecture approach allowed us to unlock phenomenal performance without any hardware changes," Northrop Grumman's Susan Bruce, vice president of the LONGBOW joint venture, said in a statement. "Version six is a major update to LONGBOW's capabilities providing significant situational awareness and targeting capabilities to the warfighter."
Officials said the validation of the latest LONGBOW radar during FOT&E included detecting numerous ground and maritime targets, as well as demonstrating enhanced detection of unmanned aerial vehicles.
"LONGBOW's Version 6 software helps increase survivability to the AH-64E aircrews, reduces workload and enhances stand-off range," Lockheed Martin's Jim Messina, president of the joint venture, said in a statement.
The Apache radar provides the helicopter crew with automatic target detection and then enables rapid, multi-target detection using AGM-179 Joint Air-to-Ground Missile missiles.
The two companies said, to date, nearly 500 LONGBOW fire control radars have been delivered to the Army.