BAE Systems said Tuesday it is developing new advanced radar jamming technology for Army helicopters and drones that will allow aircraft to fly closer to threats while remaining undetected, with an initial demonstration planned for July 2020.
The Army awarded BAE Systems a research and development contract that will look to build out a prototype that brings together adaptive radio frequency jamming and sensing capabilities into a single system.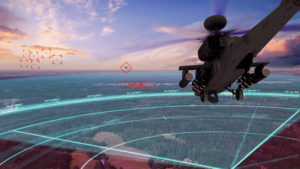 "With the continuously evolving threat landscape, it's critical to provide the next-generation of digital phased array technology to better defend our armed forces in electronic warfare," Chris Rappa, product line director for radio frequency, EW and advanced electronics at BAE Systems' FAST Labs, said in a statement. "Our technology will give the Army's rotary-wing aircraft and UAS a new, low SWaP system to securely and drastically increase their range of movements in future missions."
Ben McMahon, program manager for BAE Systems' FAST Labs, told Defense Daily, the program's roadmap includes building on the initial demonstration in summer 2020 toward full flight tests within the next few years.
"Our technology roadmap calls for a prototype system that demonstrates key capabilities that protect the warfighter before a tech maturation or EMD phase. This particular digital phased array capability would be a new addition to our rotary wing portfolio following the R&D phases," McMahon said.
BAE Systems said the technology is intended to provide a lighter, consolidated electronic countermeasure system for rotary-wing aircraft and drones.
Development work will include combining "multiple, software-programmable antennas into a digital phased array" capable of providing enhanced jamming capabilities while reducing the overall size of current bulkier systems.