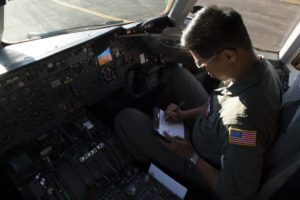 Collins Aerospace [UTX] has awarded L2 Aviation a subcontract for installations of Mode 5 Automatic Dependent Surveillance-Broadcast (ADS-B) upgrades for the U.S. Air Force's fleet of 58 Boeing [BA] KC-10 Extender tanker aircraft, the Texas-based avionics engineering and modifications company said on Nov. 12.
Mode 5 is an enhancement to legacy Mode 4 Identification, Friend or Foe (IFF), which has been in use since the mid-1950s for military identification. The National Security Agency and Joint Chiefs of Staff require Mode 5 to replace all Mode 4 configurations by June 30 next year.
The subcontract for L-2 comes under a more than $3.7 million Air Force sole source contract in August to Collins Aerospace to meet the ADS-B DO-260B and the Mode 5 IFF mandate for the KC-10 aircraft, which has been in Air Force service since 1981.
The KC-10 Mode 5 installation and software upgrade includes "APX119-0531 hardware, interfaces, ancillary equipment, and upgraded software for all KC-10A aircraft and removal of legacy hardware and wire harnesses," according to the Air Force. "This effort includes the A-Kit and B-Kit installation, post installation checkout, and updated technical data."
In a justification document for the sole source award last August to Collins Aerospace, the Air Force said that Northrop Grumman [NOC], L2 Aviation, and Boeing had "expressed significant interest" in the KC-10 avionics upgrade contract "and were asked to provide a letter of intent from Collins Aerospace to enter into a teaming arrangement for the entire effort."
"Northrop Grumman did not respond to request for letter of intent, L2 returned a response indicating they could only perform as subcontractor, and the Boeing Company stated they could not secure an agreement from Collins Aerospace and could not be prime contractor without such agreement," according to the Air Force justification document.
The Air Force said that last December, the service "asked Collins Aerospace if they would consider sale or licensing proprietary technical data associated with this modification," according to the justification document. "Collins Aerospace replied [January 4, 2019] with a definitive 'no.'"
Collins Aerospace holds the supplemental type certificate for the avionics upgrades for the KC-10s, "designed the integration package and retains rights to proprietary, intellectual data necessary for successful implementation of the aircraft modification," the Air Force said. "The proprietary data is not able to be purchased by the government as stated in the Collins Aerospace contract letters. The estimated cost to obtain proprietary data via outright ownership of Collins Aerospace is in the range of $1.5 billion."
In addition, the Air Force said that it could not reverse engineer the needed avionics upgrades "in a timely and cost effective manner," as the "APX-119 Digital IFF Transponder and associated interfacing line replaceable units are highly specialized equipment containing a high degree of complexity for integration into the existing avionics suite."
The reverse engineering "may require up to 3.5 years to develop and test a reverse engineering derived alternative which negates this as a viable solution based upon the cost and required schedule," the Air Force said. "The Air Force expects to begin retirement of the KC-10 aircraft in [Fiscal] 2019; therefore it is not considered possible to recover the cost of reverse engineering over the life expectancy of these parts and it is not possible to draft adequate procedures without the necessary technical data, which would drive unacceptable delays in fulfilling the Air Force's requirement."
L2 Aviation, which said that it has embarked upon an effort to gain more military avionics business, said that it "will provide multiple contract field teams to complete 58 KC-10 installations at select sites around the United States, most efficient for Air Force operations."
Mark Lebovitz, the president of L2 Aviation, said that the subcontract for the KC-10 ADS-B work "is an important program award for L2 Aviation as we build on our 22-year history of successful remote installations."
"This award demonstrates our never-ending commitment supporting the military with our contractor field teams, Group A-kit manufacturing, and avionics integration capabilities," he said.
By Jan. 1, the Federal Aviation Administration (FAA) will require that the majority of aircraft operating above 10,000 feet in U.S. Class A, B, and C airspace be equipped with ADS-B (Out), which allows aircraft to transmit information about altitude, velocity and position derived through GPS to ground stations and to other equipped aircraft in the vicinity.
The Pentagon is to have 2,936 aircraft equipped with ADS-B (Out) by the FAA-mandated deadline of Jan. 1, according to the U.S. Air Force, the military service in charge of the effort.
That number is just 21 percent of DoD's total aircraft inventory, but officials have said that ADS-B (Out) modifications present a significant depot scheduling challenge, and, in some cases, engineering challenges, such as for fighter aircraft. By 2025, DoD plans to have about 62 percent of its aircraft equipped with ADS-B (Out), including 35 percent of fighter aircraft, 67 percent of helicopters, and 100 percent of mobility, command and control/intelligence, surveillance, and reconnaissance (C2/ISR), and trainer aircraft, an Air Force official said recently.
In August, the Air Force provided a breakdown of the 2,936 aircraft to have ADS-B (Out) by Jan. 1. By that date, no fighter or bomber aircraft or UAVs will have ADS-B (Out), but 1,129 helicopters, 923 mobility aircraft, 259 C2/ISR aircraft, and 625 trainers will, the Air Force said.
An Air Force official said that DoD will not equip aircraft that are to retire by 2025 with ADS-B (Out), as the Pentagon determined that the effort would not be worth the cost. In addition, other aircraft, such as the Air Force bomber fleet and the future B-21 bomber, have mission requirements that "do not align from an operational security standpoint with the broadcast nature of ADS-B (Out)."
Collins Aerospace is supplying ADS-B transponders for the DoD effort, while other contractors, including primes such as Boeing, are providing integration, GPS upgrade and navigation work.
A Memorandum of Agreement (MoA) signed by Acting FAA Administrator Dan Elwell and then-Air Force Secretary Heather Wilson on July 26 last year noted that "the cost, budget, and depot schedule constraints make it prohibitive for DoD to equip all DoD aircraft by the [Jan. 1, 2020] compliance date."
"Notwithstanding these potential constraints, DoD will seek to align ADS-B Out equipage with other program updates (e.g. Identification Friend or Foe–Mode 5 and Military Code [M-Code] receivers) in order to reduce overall costs," the MoA said. "Additionally, there are instances where DoD airframes are scheduled to be retired soon after the compliance date, which would narrow the benefit window considerably and may not be best value to the public."