The Navy awarded General Dynamics [GD] a $732 million contract on Nov. 8 for ground sustainment of its new narrowband satellite communications system.
The Navy's Mobile User Objective System (MUOS) is a five-satellite constellation that will provide narrowband satellite communications for the Department of Defense and other government organizations.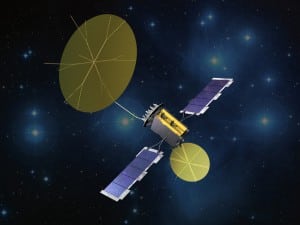 The department noted MUOS supports a global multiservice set of users, "providing modern netcentric communications capabilities while supporting legacy terminals."
GD Spokesman Tom Crosson told Defense Daily the ground system sustainment work includes maintaining operational performance, repair and replacement of failed equipment as necessary, and obsolescence management.
Typically, once a development contract for a system like MUOS is finished, the government releases a sustainment contract to ensure long-term viability and performance.
Fiscal year 2020-2029 Navy funds will be applied to individual task orders under this award. Funds will not expire at the end of this fiscal year.
The vast majority of the work will occur in Scottsdale, Ariz., and is expected to be finished by November 2029.
The award notice said this contract was a sole source acquisition pursuant to authority in the U.S. Code for only one responsible source.
Last month, MUOS finished a test and evaluation phase, making it fully operational and assessed as operationally effective (Defense Daily, Oct. 16)
MUOS features the new Wideband Code Division Multiple Access (WCDMA) capability which is expected to have 10 times the communication capacity of current systems, allowing operators to simultaneously transmit video, voice, and missile data.
The satellites also have the legacy Ultra High Frequency Follow-on (UFO) to maintain older communications during the transition to WCDMA.
While MUOS sustainment is being managed by General Dynamics, the satellites themselves were built by prime contractor Lockheed Martin [LMT].
The first MUOS satellite was launched in 2013 and the last one was handed over to the Navy in late 2017 after working through an orbit issue (Defense Daily, Nov. 17, 2017).