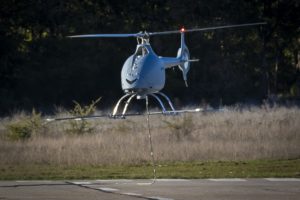 Airbus Helicopters' unmanned VSR700 demonstrator performed its first flight under a new configuration at a drone test center near Aix-en-Provence, taking off and landing several times while tethered to the ground. Its longest flight lasted about 10 minutes, according to the company.
The VSR700 program, based on a modified Cabri G2 equipped for autonomous flight, was launched two years ago on a request from the French Navy. That prototype flew frequently in 2017, but Airbus has since redesigned the aircraft to be fully unmanned rather than optionally manned.
Designed as a multi-mission UAS for naval use, the VSR700 offers sensory performance comparable to other naval helicopters as well as additional targeting and search-and-rescue capabilities, according to Airbus. The aircraft's maximum takeoff weight is between 1,100-2,200 pounds and it can operate in existing ships alongside a helicopter with a low logistical footprint, the company said in a press release.
The new VSR700 prototype is a "step change" from the demonstrator that flew in 2017, according to Airbus, with a specialized set of avionics, an advanced flight control system, a payload bay in place of the pilot station, and a sleeker, more aerodynamic shape. The UAS has a maximum speed of 114 mph, a ceiling of about 20,000 feet and an endurance of eight hours with a full tactical load, which Airbus claims is the "best endurance of any vertical takeoff/landing unmanned aerial vehicle in its class today."
"The VSR700 is a fully-fledged unmanned aerial system, capitalizing on Airbus Helicopters' extensive experience of advanced autopilot systems and engineering expertise to provide modern militaries with new capabilities", said Bruno Even, CEO of Airbus Helicopters. "This first flight of the VSR700 prototype is a major milestone for the program as we make progress on the operational demonstrator for the French Navy that will perform trials in 2021 in partnership with Naval Group."