Democratic Rep. Elaine Luria (D-Va.), a strong proponent of increased defense spending and growing the size of the Naval fleet, lost her reelection bid on Tuesday evening to Republican candidate and fellow Navy veteran Jen Kiggans.
Luria's defeat was one of Democrats' few key losses on election night while Republicans on a whole underperformed expectations, with the GOP likely still poised to regain control of the House with a slim margin as final results are tallied.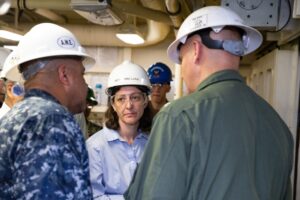 "I chose Coastal Virginia to be home more than two decades ago, and it has been the honor of my life to represent and serve the people of Hampton Roads in Congress. Though the results were not what we wanted, I want to thank everyone for their support over the past four years," Luria wrote in a social media post. "The peaceful transition of power is a cornerstone of our democracy, and I congratulate Jen Kiggans on her win and wish her success. I have instructed my team to be as helpful as possible to ensure a smooth transition and continue providing constituent services [to] Coastal Virginians."
Kiggans will take over Virginia's 2nd district seat which has a heavy shipbuilding contingent and is in close proximity to Naval Station Norfolk.
Luria, who served in the Navy as a nuclear-trained surface warfare officer, has called on the Biden administration to prioritize ensuring the Navy has a larger share of the Pentagon's topline to meet calls to increase the size of the fleet, specially aimed at the goal for at least 355 manned ships (Defense Daily, Sept. 16).
During the House's debate of the fiscal year 2023 National Defense Authorization in July, lawmakers adopted two measures from Luria that would require the Navy Secretary to submit a report on the cost and feasibility of a two- and three-year advanced procurement strategy for the next two Ford-class carriers, to include analyzing benefits of a two-carrier buy over a single-carrier procurement, and a separate report from the Navy on the service's multiple award contract-multi order strategy in the long term (Defense Daily, July 15).
"[Luria's] military expertise has been an invaluable asset to our Caucus and the Congress: from the Armed Services Committee, where she served as Vice Chair, to the Veterans Affairs and Homeland Security Committees. In the wake of the staggering January 6th attack, she inspired all freedom-loving Americans with her principled, bipartisan and unifying work to protect our precious Democracy on the Select Committee to Investigate the January 6th Attack," Speaker of the House Nancy Pelosi (D-Calif.), said in a statement following Luria's defeat.
While several races remain to be called as of Defense Daily's deadline, Republicans are in position to likely reclaim a majority in the House with a margin potentially in the single digits.
If that's the case, Rep. Mike Rogers (R-Ala.) would be in line to become chairman of the House Armed Services Committee (HASC) with Rep. Adam Smith (D-Wash.) then taking over as ranking member on the panel.
Several of the most competitive races for Democratic lawmakers heading into election night featured several HASC members, to include Luria's loss as well as Reps. Elissa Slotkin (D-Mich.) and Jared Golden (D-Maine) in position to keep their seats.
Slotkin defeated Republican State Senator and Army veteran Tom Barrett with 51.5 percent of the vote, with the race for Michigan's 7th district among the most expensive of this campaign cycle.
"I just received a call from Tom Barrett conceding the election. I'm so grateful to the people of mid-Michigan for their support. Tonight, voters here made clear that the politics of division are not what they want for our families or our state," Slotkin said in a social media post. "I'm honored to be elected to represent [Michigan's 7th district], particularly at a moment that demands serious, pragmatic leadership. Let's get to work!"
Slotkin, a member of HASC's Readiness and Cyber, Innovative Technologies, and Information Systems Subcommittees, was co-leader of the recent Defense Supply Chain Task Force along with Rep. Mike Gallagher (R-Wis.), where she helped craft several legislative proposals aimed at bolstering the Pentagon's supply chain security and reducing the department's reliance on items sourced from adversarial countries, specifically China (Defense Daily, July 22 2021).
Golden is also leading in his bid to secure reelection against Republican Bruce Poliquin, who used to hold the seat for Maine's 2nd Congressional district from 2015 to 2019, while a final tally may take several days to be completed with the state's ranked-choice voting system.
Golden and Luria proposed the $37 billion topline increase to the House's version of the FY '23 NDAA during HASC's markup of the bill, which the committee ultimately approved with a 42 to 17 bipartisan vote (Defense Daily, June 22).
The Bath Iron Works [GD] shipyard is located in Golden's district, with the Marine Corps veteran also a shipbuilding proponent on the Armed Services panel.
Two other HASC Democrats are poised to survive their reelections bid with Rep. Pat Ryan (D-N.Y.) leading Republican state assemblyman Colin Schmitt, who has conceded the race for New York's 18th district, and Rep. Steven Horsford ahead of Republican Sam Peters with 80 percent of the ballots counted for Nevada's 4th district.