Collins Aerospace [RTX] said Monday it has successfully demonstrated a new mission systems solution that could serve as "the brain" for the Army's future Air-Launched Effects (ALE), to include passing classified data and handling autonomous behaviors.
The company said the new RapidEdge mission systems solution is already at a high readiness level, with the recent test proving out the ability to execute "tactically relevant ALE behaviors while communicating via a cross-domain multi-level security solution."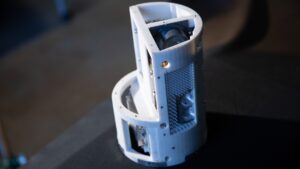 "We designed our RapidEdge Mission System solution for this market with a robust and resilient open systems approach at a high technological and manufacturing readiness level," Heather Robertson, Collins Aerospace's vice president and general manager for integrated solutions, said in a statement. "The offering is primed to meet the Army's aggressive program schedule while delivering a critical capability to the warfighter."
ALE is the Army's program to develop new autonomous air vehicles with a variety of payloads and mission system applications that can be launched from the service's Future Vertical Lift fleet to provide a range of effects for reconnaissance, extended communications links and eventually lethal capabilities as well.
"[Our] mission system enables multiple ALEs to act as a cooperative team with complementary capabilities while simultaneously reducing pilot workload," Collins Aerospace wrote in the statement. "Additionally, the open system architecture allows multiple payloads and datalinks to be seamlessly integrated."
Collins Aerospace said RapidEdge is a small-form factor capability bringing together mission computers, radios and datalinks to enable ALE communication and "proactive autonomy."
The Army has been exploring the possibilities of an ALE-Small prototype, which is an ALTIUS-600 drone built by Anduril Industries subsidiary Area-I.
Jim Thomson, acting deputy director of the FVL Cross-Functional Team, noted recently the Army has conducted a fly-off to inform OTA awards in the second quarter of FY '22 for continued prototyping of ALE-Small's air vehicles, payloads and mission system support (Defense Daily, Nov. 9).
Collins Aerospace noted the recent demonstration with RapidEdge involved connecting hardware in a lab in Cedar Rapids, Iowa to ALE-relevant hardware located at its facility in Huntsville, Alabama.
An early demonstration with RapidEdge involved a live flight test with the solution while integrated on Area-I's larger Altius-700 air vehicle, which Collins said emphasized "the ability to deliver a solution in line with the Army's FVL schedule."
At this fall's Project Convergence, the Army remotely conducted the first autonomous launch of an ALE-Small prototype from a Black Hawk using DARPA's ALIAS technology (Defense Daily, Nov. 9).