The Army said Monday it has selected four firms for a new cohort focused on developing ideas for lightweight equipment that can provide high power generation for dismounted soldiers.
Each company will receive $100,000 to work on their concepts over an eight-week period, before presenting their ideas to senior Army leaders in mid-March as the service looks to smaller, innovative companies for advanced power solutions.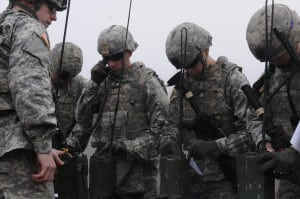 Following the finals presentations, the Army said it may select some participants to receive up to $250,000 in additional funding "for follow-on proof-of-technology and demonstration activities immediately following the cohort."
"We need to find a smart way to lighten that load for soldiers who work in expeditionary environments for days at a time," Col. Jay Wisham, director of the Army Applications Laboratory, said in a statement. "While the commercial market for these technologies is relatively niche, both the Army and industry are facing similar challenges in how to maintain power for devices when away from the grid. This cohort offers a way to join forces and move the field forward while keeping our soldiers safe and effective in the harshest environments."
The Army has selected Epirus, Resonant Link, Spark Thermionics and Xerion Advanced Battery Corp. for the cohort program, noting the firms are "developing innovative power generation and power conversion, high-density energy storage, and intelligent management and distribution technologies that can support self-sufficiency, reduce burdens, and lessen dependence on resupply."
In the coming weeks, the companies will hear directly from the teams leading the Army's soldier lethality and tactical network modernization cross-functional teams as well as the service's C5ISR Center on specific power generation problems the cohort should aim to address.
In its announcement, the Army noted Epirus is a "high-growth technology company that develops directed energy systems and power management solutions" and Resonant Link has worked on "a breakthrough wireless charging technology called the Multi-layer Self-Resonant Structure."
Spark Thermionics is an "early-stage energy startup developing a 'powerplant on a chip'" and Xerion Advanced Battery Corp. is a "fast-growing battery company located in Dayton, Ohio, that works with Fortune 500 companies in a variety of industries," according to the Army.