NORFOLK, Va. — The Army is considering integrating anti-idle technology as part of its next Joint Light Tactical Vehicle (JLTV) production contract, which a lead program official told Defense Daily could serve as a key step toward reduced fuel consumption and potential vehicle electrification.
Michael Sprang, project manager for the JLTV Joint Program Office, noted the current solicitation out for the JLTV follow-on competition allows industry to bid a solution with anti-idle capability, otherwise the Army will pursue a government-developed solution that could be applied as a future technology enhancement.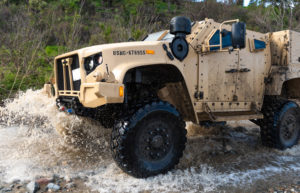 "It's optional, so we can't require industry to provide [anti-idle technology] today. But we are incentivizing them to say bring us your capability and we would like to include that in some aspect going forward. If industry decides that that's not what they want to do, we are working on an anti-idle solution from the government side too. So we have both opportunities. It's traditionally cleaner if industry does it because then they're responsible for the integration but we're trying to be prepared," Sprang said during an interview at NDIA's Tactical Wheeled Vehicles Conference here.
The Army released the Request for Proposals for the potential $7.3 billion JLTV follow-on production competition last month, with a contract award slated for this September and first vehicle delivery 18 months later in March 2024 (Defense Daily, Feb. 9).
Oshkosh Defense [OSK] currently manufactures the JLTV, and George Mansfield, the company's vice president and general manager of joint programs, confirmed to Defense Daily the acquisition objective for the next production deal is for 15,586 JLTVs and 7,673 trailers.
Mansfield also said Army officials were impressed with Oshkosh Defense's new hybrid-electric variant of the JLTV during a recent engagement (Defense Daily, March 3).
Sprang noted hybrid-electric capability is not a requirement of the JLTV follow-on deal, but rather the effort will look at fuel efficiency through potential efforts such as anti-idle technology.
"We like the JLTVs. We're not trying to change everything, but we're looking for those opportunities to be brought in at a fairly low risk," Sprang said. "[Anti-idle] is getting after not running the vehicle when you're just sitting and you're just running the communication equipment or you're waiting for the mission. The Army loves to idle so what this capability does is to bring about 15-20 percent fuel savings just in those times having this on."
The 18-month period before first vehicle delivery was explicitly built into the follow-on deal to allow industry the necessary time to work in capabilities such as anti-idle technology, if that solution is part of their final bid, according to Sprang.
"If they don't bid it, then I have to bring the government solution. Then that might be a [technology] spiral," Sprang said. "That's also why [industry] gets 18 months. All the tech enhancements we want, we want to give them time to integrate fully and bring that capability forward. We leveraged industry to understand how much time did they want and how would we execute that."