The Army is officially soliciting proposals for its Joint Light Tactical Vehicle follow-on production competition, which now may be worth $7.3 billion over 10 years.
The Request for Proposals for the follow-on deal for JLTV, which is currently manufactured by Oshkosh Defense
[OSK], was not released publicly, while bids are due to the Army by April 12.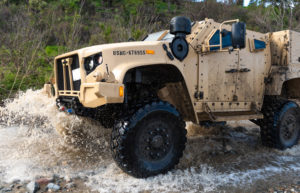 "The awarded JLTV follow-on production contract will be a single award, five-year requirements type contract, with five one-year options on a cost-plus fixed-fee and firm-fixed price basis," the Army wrote in a notice announcing the beginning of the solicitation process.
A contract award is slated for this September and would include first vehicle delivery 18 months later in March 2024.
The Army previously said the contract could be worth $6.5 billion over 10 years and cover approximately 17,000 JLTVs and 10,000 trailers, according to slides from an industry day for the competition this past fall (Defense Daily, Nov. 18).
The new notice did not specify acquisition objectives under the follow-on deal.
George Mansfield, Oshkosh Defense's vice president and general manager of joint programs, told Defense Daily in October the company is "very confident" in its pursuit to secure the next production contract (Defense Daily, Nov. 1).
Oshkosh Defense unveiled a new hybrid-electric version of the vehicle last month, called eJLTV, which offers silent drive capabilities and operates with a battery that recharges while in use (Defense Daily, Jan. 25).
The company noted that hybrid-electric drive capability is not a current requirement of the upcoming JLTV follow-on production contract.
The JLTV re-compete effort has drawn a potential public competitor in GM Defense [GM], which has previously detailed plans to line up partners and ensure it has the full supply chain of parts necessary to go after the production contract (Defense Daily, May 4).