Michael Bloomberg, the former mayor of New York City, has been named as the next chair of the Pentagon's Defense Innovation Board.
Pentagon Press Secretary John Kirby told reporters Defense Secretary Lloyd Austin selected Bloomberg "to leverage his experience and strategic insights on innovation, business and public service."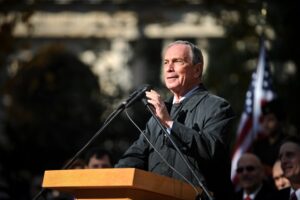 "Mr. Bloomberg, as you all know, is an entrepreneur and a leader who served three terms as the mayor of New York City, will bring a wealth of experience in technology, innovation, business and government to the Defense Innovation Board. His leadership will be critical to ensuring the department has access to the best and brightest minds in science, technology and innovation through the team of diverse experts that he will lead as chair of that board," Kirby said during a Wednesday press briefing.
The Defense Innovation Board was created under the Obama administration in 2016 and has included officials from companies like Google [GOOG], Facebook [FB], and Microsoft [MSFT], as well as universities, to advise the Pentagon on major technology efforts and innovation opportunities.
"Innovation and adaptability are absolutely critical at any large organization, and there is no organization bigger or more complex than the Department of Defense. With rapid advances in technology happening alongside rapidly evolving threats to our national security and the safety of our service members, our largest government agency must also be our most forward-thinking. I'm honored to work with Secretary Austin, Deputy Secretary [Kathleen] Hicks, other senior Defense Department leaders and innovators from government and business to help bring new ideas and outside perspective that can help protect Americans and our values, interests, and allies around the world," Bloomberg, who served as New York City's mayor from 2002 to 2013, said in a statement.
Bloomberg will succeed Mark Sirangelo, the former head of Sierra Nevada Corp.'s space system division, who has lead the board since 2020. Sirangelo previously took over for Eric Schmidt, the former Google CEO, who was the board's inaugural chairman.