The Army is currently running its second of four exercises to test a range of capabilities required to enable joint interoperability and advanced data sharing at its upcoming Project Convergence 2021 (PC '21) demonstration, which will feature bolstered participation from the other services.
The lab-based COMMEX demonstration underway at Aberdeen Proving Ground in Maryland is utilizing the new Joint Systems Integration Lab (JSIL) to test 50 technologies that could serve as critical nodes for creating a new "sensor-to-shooter" network bringing together the joint services' future weapon systems.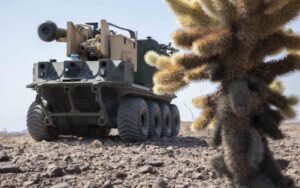 "Think of this as the backbone of passing data in different ways in order to enable those seven [operational] scenarios that will take place in Project Convergence '21," Col. Tobin Magsig, commander of Army Joint Modernization Command, told reporters on Tuesday. "If we're able to do these technical threads with great success in COMMEX, then we'll be well on the road to being able to execute in PC '21."
The Army held the first Project Convergence demonstration last fall at Yuma Proving Ground in Arizona which brought together future capabilities, artificial intelligence-enabled systems and a new "computer brain" to prove out capacity for passing targeting data in a matter of seconds (Defense Daily, Sept. 24). 
With this fall's demonstration expanding participation from the other services, the Army is using the COMMEX process to reduce risk by ensuring key pieces of technology can be properly integrated before taking equipment out to the desert. 
"We realized that prior to us getting out to the field and out into the dirt that we needed some time in a controlled and instrumented laboratory environment to really address integration challenges, not only just in network configuration but really to understand the data environment. Getting data to where it needs to go is not a trivial task,"  Michael Monteleone, director of space and terrestrial communication for the Army's C5ISR Center, told reporters. 
Monteleone said the JSIL at Aberdeen Proving Ground, which reached Full Operational Capability a few weeks ago, is serving as the "critical node on the Army's persistent experimentation environment."
The effort to test joint technologies during the COMMEX event is aimed at ensuring integration with systems such as the new Army-developed Firestorm "computer brain," which was used at Project Convergence to rapidly send data from machine to machine.
"We've worked since Project Convergence '20 to pull Firestorm from the secure but unclassified network and put that on the secret network and integrate that into the suite of mission command systems across the Army. We're looking forward to experimenting with that and seeing it in practice across Project Convergence '21," Magsig said. 
The first COMMEX event took place in January with 16 technologies and served as a proof of concept for the JSIL, according to Magsig. 
"We took the sensor-to-shooter mission threats that we did at Project Convergence '20 and re-ran those in the laboratory with the technologies that participated in [PC] '20," Magsig said.
In late July to mid-August, the Army will then run three weeks of deliberate use case rehearsals to employ results from the ongoing lab-based work.
"That will be all participating technologies connected to the JSIL in a federated, distributed manner and we will go through each use scenario systematically with the exact technologies and formats that will take place in PC '21. That will be the best rehearsal and the best opportunity to capture data prior to PC '21," Magsig said. 
Finally, the Army will run COMMEX 3 and 4 in the lead-up to PC '21 in the fall working in the desert to establish tactical air-to-ground mesh networks and then testing out the ability to pass data on those networks, according to Magsig.