The Army is about to complete its first Robotic Combat Vehicle (RCV) experiment, with officials citing an array of successes with software and connectivity capabilities and gathering data to inform requirements for the first test with new prototype platforms in fiscal year 2022.
Brig. Gen. Ross Coffman, director of the Next-Generation Combat Vehicle Cross-Functional Team, also told reporters Thursday the Army is now working with the Marine Corps on the RCV-Light variant.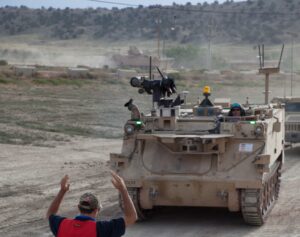 "This experiment was 100% successful because we learned. The whole purpose was to learn where the technology is now and how we think we want to fight with it in the future," Cofffman said. "All of the technology was not successful. It's a sliding scale, some knocked our socks off and some we've got a little bit of work to do. But that's why we do these [experiments] at a small scale, so we can learn, save money and make decisions."
The five-week Phase 1 experiment at Fort Carson in Colorado was a platoon-level demonstration that used modified Bradleys as control vehicles and M113s as surrogate robots.
The Army in January selected QinetiQ North America for the RCV light variant and a Textron [TXT] team for the medium variant, with each company tasked with delivering four prototype vehicles (Defense Daily, Jan. 9).
While the Phase 1 demonstration didn't involve those test platforms, Coffman confirmed that both companies were in attendance and brought representative vehicles to showcase what their capabilities will look like.
"What we are encouraged by is that all of the areas we put together on the 113s and control vehicles are already being addressed by the two companies that are doing purpose-built vehicles," Coffman said. "Everything is designed to function as a robot rather than a robot that we've built just out of what we've had."
Coffman also noted the Marine Corps interest in the RCV-L will inform QinetiQ's requirements for the platform as it moves into development.
"The Marines and the Army are sharing resources, sharing technology and developing this Robotic Combat Vehicle together. What we've learned from the Marines has informed our requirements for [QinetiQ] and they're building us an upgraded version based on what the Marines have learned," Coffman said.
From the Phase 1 experiment, Coffman said the new map interface for crews controlling the robotic "absolutely blew us away" and the software used to connect the platforms "performed better than we thought it would."
Coffman said the Phase 2 experiment will take place in early FY '22, likely at Fort Hood in Texas, and will include using a new radio to increase range, a tethered UAV to improve line-of-sight, and a "leap-ahead" Aided Target Recognition capability.
The Phase 2 company-level demonstration, which also includes M113s as RCH-Heavy surrogates, will be used to inform Milestone B decisions for the RCV-L and RCV-M prototypes, the Army has said previously (Defense Daily, May 20).
Phase 3 of RCV experimentation will be split into two separate demonstrations: a contractor-led experiment that will require the Army to purchase four additional RCV-M prototypes and combined arms breach demonstration to inform a path forward for RCV-H.
"This technology is emerging, and that technology as it is today could add a lot of benefit on the battlefield," Coffman said. "In the future, I guarantee you we're going to have robots sensing, shooting and detecting anything from chemicals, providing smoke, breaching obstacles, in a support by fire position, conducting reconnaissance. And it's all about reducing risk on the soldiers we have."