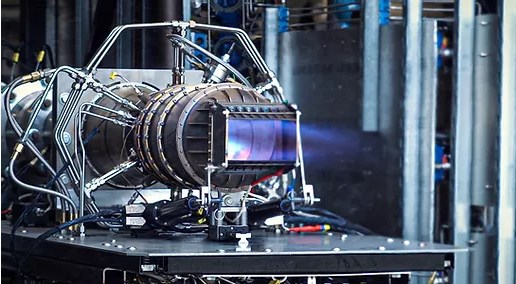 Hermeus Corporation, an Altanta, Ga.-based startup developing hypersonic aircraft primarily for commercial use, was awarded a $1.5 million Phase 2 prototyping contract by AFWERX to further develop its Mach 5 engine prototype, successfully tested in February, and aircraft design.
Partnering with the U.S. Air Force's Presidential and Executive Airlift Directorate, under the initial contract Hermeus will explore the necessary modifications to meet Air Force mission requirements within the Presidential and Executive Fleet, according to co-founder AJ Piplica.
"By leveraging commercial investment to drive new technologies into the Air Force, we are able to maximize our payback on Department of Defense investments," said Brig. Gen. Ryan Britton, program executive officer for the directorate. "The Presidential and Executive Airlift Directorate is proud to support Hermeus in making this game-changing capability a reality as we look to recapitalize the fleet in the future."
Prior to the award, the Hermeus team — alumni of SpaceX, Blue Origin and Generation Orbit — designed, built and successfully tested a Mach 5 engine prototype in just 9 months, though the company estimates bringing an aircraft to market is likely to take a decade or more.
"Using our pre-cooler technology, we've taken an off-the-shelf gas turbine engine and operated it at flight speed conditions faster than the famed SR-71," said Glenn Case, CTO of Hermeus. "In addition, we've pushed the ramjet mode to Mach 4-5 conditions, demonstrating full-range hypersonic air-breathing propulsion capability."
Hermeus isn't the only company hoping to bring back supersonic flight, but it may be the most ambitious. Nevada-based Aerion aims to deliver 12-passenger business jets that fly at Mach 1.4 by 2023. Denver, Co.-based Boom Supersonic is slated to unveil its XB-1 demonstrator, designed to fly at Mach 2.2, in October, with plans for the aircraft to be "in the air" by 2023 as well.
Commercial spaceflight company Virgin Galactic recently joined the fray as well, announcing it will work with Rolls-Royce on a 9-19 passenger business jet capable of Mach 3 flight.
And Hermeus' ambition isn't just related to speed; the company wants to bring faster-than-sound flight to the commercial market rather than business and VIP travel.
Richard Aboulafia, vice president of analysis at the Teal Group, told Defense Daily that the business case for commercial airline supersonics is "extremely difficult."
"I just don't see how anyone can make money with supersonics in the commercial market," Aboulafia told Defense Daily in an email. "But private aviation is another story. There's definitely a group of private jet users out there who don't mind paying more and flying in a much smaller plane, and with much shorter ranges, in order to fly supersonic. And once there is a business jet that can buy a supersonically, there will be a military and government market for that jet."
While the next Air Force One, expected to be delivered next year, will be a modified Boeing [BA] 747-8, it's clear the Air Force is interested in something quite different — and quite a bit faster — for the generation of executive aircraft after that.
But first, Hermeus will have to raise more money. A seed round and $1.5 million from AFWERX won't build an airplane — and certainly not one that travels at Mach 5.