A delayed Missile Defense Agency (MDA) intercontinental ballistic missile (ICBM) test using the Standard Missile (SM)-3 Block IIA is now set and planned to occur before the end of the year.
Flight Test Maritime (FTM)-44 was first scheduled to occur in May, but in April the agency announced most flight tests were delayed to be in alignment with Defense Department guidance of travel restrictions during the COVID-19 pandemic (Defense Daily, April 24).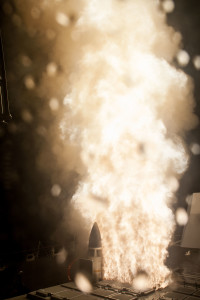 FTM-44 is mandated by Congress to occur before the end of the year to see if the Aegis Combat System and SM-3 IIA can go beyond its original scope to defend against an ICBM and act as an additional underlayer to the Ground-based Midcourse Defense (GMD) system's Ground-Based Interceptors (GBIs) geared to defend against a small number of missiles from North Korea. FTM-44 is specifically a defense of Hawaii scenario.
In April, Deputy Assistant Secretary of Defense for Nuclear and Missile Defense Policy Robert Soofer said DoD was looking to conduct an SM-3 IIA intercept test against a North Korean-representative ICBM threat in the summer timeframe (Defense Daily, April 22).
"So before the global pandemic kicked in we were going to execute this test back in May. We've been directed congressionally to complete it by the end of the year and so we went into a re-plan and where we are today is we have the target on station in Kwajalein, it is the same ICBM that was used in FTG-11, so we're very confident about that target capability," MDA Director Vice Adm. Jon Hill said during the virtual Space and Missile Defense Symposium on Tuesday.
Hill did not disclose when MDA specifically expects to conduct the test.
DoD often uses the Ronald Reagan Ballistic Missile Defense Test Site at Kwajalein Atoll in the Marshall Islands to launch missile defense targets for test flights.
Hill also said the Hawaii-based USS John Finn (DDG-113) is also ready to conduct the test. He underscored it was part of the team tracking an ICBM-representative target for the FTG-11 test, which was the first salvo test with GBIs.
DDG-113 has "been out in multiple data collection paths, practicing and getting ready to execute. So we now are now set , provided that we get some changes in some of the restrictions on getting people and equipment on station. But we are ready to execute before the end of the year," Hill said.
He added in the test MDA will launch an ICBM from Kwajalein then "the ship will maneuver and launch an SM-3 Block IIA outside of its design space to take on an intercontinental ballistic missile track. It's going to be a pretty great event and we're looking forward to that."
Hill underscored the test is important is because "this is the second layer that could be brought forward to protect the country if we have a raid scenario where GMD misses something and there is a shot that can be made form a ship."
This will be the first step to gain empirical data on the ability of an SM-3 outside of its design space, Hill noted.
The prime contractor for Aegis is Lockheed Martin [LMT] while Raytheon Technologies [RTX] builds the SM-3 IIA interceptors.
The SM-3 IIA is a cooperative development program developed jointly by the U.S. and Japan. It is designed to travel faster and farther than previous models to intercept short, medium and intermediate-range ballistic missiles in their midcourse phase of flight.