The Air Force has named its next-generation trainer aircraft the T-7A Red Hawk, a tribute to the Tuskegee Airmen, with plans to accept the first platforms and simulators in 2023, the service's acting secretary said Monday.
Matt Donovan, the Air Force's top civilian, announced the new name for the Boeing [BA]-Saab aircraft, set to replace the Northrop Grumman [NOC]-built T-38 trainer, at the Air Force Association's annual conference.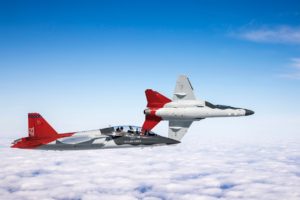 "The T-7A will be the staple of a new generation of aircraft. The Red Hawk offers advanced capabilities for training tomorrow's pilots on data links, simulated radars, smart weapons, defensive management systems, as well as synthetic training capabilities," Donovan said.
Donovan unveiled the aircraft's designation alongside retired Col. Charles McGee, a member of the Tuskegee Airmen, which was the U.S. military's first group of African-American aviators.
"The name 'Red Hawk' honors the legacy of the Tuskegee Airmen and pays homage to their signature red-tailed aircraft from World War II. The name is also a tribute to the Curtis P-40 Warhawk, an American fighter aircraft that first flew in 1938 and was flown by the 99th Fighter Squadron, the U.S. Army Air Forces' first African-American fighter squadron," Donovan said.
The Air Force awarded Boeing and Saab a deal worth up to potentially $9.2 billion to deliver its next trainer aircraft under the T-X program, beginning with an initial $813 million engineering and manufacturing development contract for 351 aircraft and 46 simulators. 
Air Force officials have said they expect the newly-named T-7A to reach initial operating capability by 2024 and full operational capability by 2034.
Boeing recently noted its aircraft had completed 100 test flights as of Sept. 5 (Defense Daily, Sept. 6).