T-X. The Air Force's forthcoming T-X trainer aircraft has completed 100 test flights as of Sept. 5, the manufacturer Boeing said Thursday. The Air Force awarded Boeing and Saab a joint contract in 2018 to develop the T-X, which will replace the Air Force's T-38 trainer fleet.
Air Force Fighters. The F-16 fleet is the only Air Force fighter that is expected to hit a mission capable rate of 80 percent or higher this fiscal year, Lt. Gen. Mark Kelly, the service chief of staff for operations, said Wednesday at the annual
Defense News conference. Former Defense Secretary Jim Mattis had previously set a goal for the Air Force and Navy fighter fleets to all hit 80 percent mission capable rates by Sept. 30.
BAE Top Spox Departs. Kristie Cunningham, long-time leader of BAE's corporate communications, left the company in mid-August, company spokesman Brian Roehrkasse told Defense Daily in response to query on Friday. Her surprising exit marks the latest in a series of changeouts in corporate communications at the top DoD contractors. In just over the past year, Lockheed Martin, Boeing, General Dynamics and Northrop Grumman have all hired new top communications leaders. Cunningham had been the top communicator at BAE since 2013. Roehrkasse said he is serving as acting communications leader while the company searches for a permanent successor.
SASC Hearings. The Senate Armed Services Committee will hold a joint confirmation hearing Sept. 12 for Barbara Barrett to be considered for the next Air Force secretary and for Army Undersecretary Ryan McCarthy to become the next Army secretary. McCarthy has been serving as Army acting secretary since Mark Esper became secretary of defense in July. President Trump announced his intent to nominate Barrett, the former chair of the Aerospace Corp., to succeed Heather Wilson as Air Force secretary this past May.
GBSD. The Air Force is not encouraging or discouraging a possible proposal where Boeing and Northrop Grumman team up to build the Ground-Based Strategic Deterrent, Air Force Assistant Secretary for Acquisition Will Roper told reporters Wednesday on the sidelines of the Defense News conference. "We are looking for the proposal that is best value to the Air Force," he said, noting that the government should "always be open" to considering the best solution for a program. "We think that we have an RFP that allows us to have a very wide spectrum of proposals and we'll evaluate them based on the criteria laid out to those vendors," he added. "We don't know enough now to know what the right acquisition approach is. … So we'll see what happens when the window closes."
Space Force Acquisition. Separating the acquisition pipeline between the Air Force and a future Space Force would create more problems than it would solve, Roper argued Wednesday during a panel discussion at the Defense News conference. The Senate version of the NDAA would create a new acquisition exec position for the Space Force, but many of the service's future weapons programs are being developed with both the air and space domains in mind, he said. That being said, Congress will have the final word, he noted. "Whatever the choice is, we're ready to fully support."
Iran. Recent targeting of first a Navy MQ-4C UAS in June and then an Air Force MQ-9 Reaper in August are "completely inappropriate actions" by Iran and its proxies, AFCENT Commander Lt. Gen. Joseph Guastella said Friday. While the command has not yet experienced any additional attacks from Iran against air assets since August, "they have indicated and telegraphed a very aggressive posture, … and they continue to do it," Guastella said at a Mitchell Institute event on Capitol Hill. "Although we have not lost anything else, the threat remains." The MQ-9 was "flying legitimately and in appropriate airspace, … and was shot down by proxy forces of Iran," he told reporters after the event. He would not comment on whether the aircraft had been recovered.
T-EPF-14. On Sept. 5 Secretary of the Navy Richard Spencer announced the latest Spearhead-class Expeditionary Fast Transport ship will be named the USNS Cody (T-EPF-14). This will be the first ship named after the city of Cody, Wyo. Austal USA in Mobile, Ala., has a contract to build T-EPF-14. In March, Austal won a $262 million modification for detail design and construction for T-EPOF-13 and -14. The Navy's FY 2020 unfunded priorities list also requested $49 million to covert the future Cody into an Expeditionary Medical Transport vessel.
Aegis. The Missile Defense Agency (MDA) awarded Lockheed Martin a $327 million sole-source follow-on contract to design, develop, integrate, test and certify the Aegis Ballistic Missile Defense (BMD) 6.0 capability. Aegis BMD 6.0 incorporates the SPY-6 Air and Missile Defense Radar (AMDR), set to be installed on DDG-51 Flight III destroyers. Work will occur in Moorestown, N.J., and is expected to be finished by December 2025. In all, $15 million in fiscal year 2019 research, development, test and evaluation funds were obligated at award time.
Weapons Support. Naval Supply Systems Command awarded Raytheon a $246.5 million undefinitized contract action for repair, upgrade, replace, configuration management, inventory management and obsolescence management to support the Close-In Weapon System (CIWS), land-based Phalanx Weapon System, Rolling Airframe Missile (RAM), and SeaRAM. The contract covers a two-year base period and includes one three-year option that, if exercised, would raise the total contract ceiling to $466 million. The work will occur in Louisville, Ky., and is expected to be finished by August 2021. If the option is exercised, the work will be finished by August 2024. Naval annual working capital funds will be obligated as individual task orders are issued. Only one firm was solicited in accordance with U.S. Code and acquisition regulations.
CH-53K Engines. The Navy awarded General Electric Aviation a $144 million modification for 24 low-rate initial production (LRIP) Lot 3 T408-GE-400 turboshaft engines and three Lot 2 T408-GE-400 engines for the CH-53K Sea King helicopter. The award also provides for associated engine and programmatic support, logistics support, peculiar support equipment and spares. Work will occur in Lynn, Mass., and is expected to be finished by December 2022.
DRS. In late July, the Navy awarded Leonardo DRS a $382 million contract to develop, integrate, and produce hardware solutions for naval platforms in the U.S. Navy, U.K., and Australia, the company said Wednesday. This is an indefinite delivery indefinite quantity (IDIQ) contract with options that, if chosen, raise the total value to over $830 million. The contract will have Leonardo DRS provide design, procurement, production, sparing, test, installation, and support of displays, workstations, processors, and network systems. It also covers the production of subsequent systems, kits and enclosures as well as engineering and technical services. Work will largely occur in in the company's Johnstown, Pa., facilities and is expected to be finished by the end of 2026. The contract is divided into purchases for the U.S. Navy (92.7 percent), the U.K. under the Foreign Military Sales program (4.6 percent), and a memorandum of understanding with Australia (2.7 percent). The Navy did not disclose what vessels the equipment is for, but the contracting activity is the Naval Undersea Warfare Center Division Keyport, which works on unmanned surface and undersea vehicles, among others.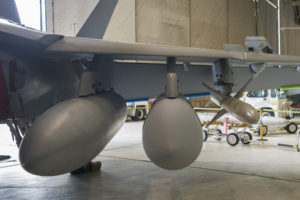 Jammer Pic. Raytheon released the first photos of the Next Generation Jammer Mid-Band pod on an EA-18G Growler. It is a high-power high-capacity electronic attack weapon system that aims to deny, degrade, and disrupt enemy threat radars and communications devices. The company is contracted to deliver 15 pods for mission systems testing and qualifications plus 14 aeromechanical pods for airworthiness certification. In July, the company delivered the first engineering and manufacturing development (EMD) pod to the Navy to start integration testing.
Motor City Modernization. The Army's Next-Generation Combat Vehicle cross-functional team has expanded its program to solicit white papers for innovative vehicle integration technologies. Brig. Gen. Ross Coffman, director of the NGCV CFT, told attendees at the Defense News conference "Modernization in the Motor City" program will grow beyond its current schedule of monthly engagement events. "Any business, small or large, can submit a white paper. And if that's a ground vehicle technology that can assist the United States government in any facet of vehicle design, then we meet with those companies," Coffman said. "The response has been absolutely amazing. We've had to triple the amount of engagements we had."
Futures Command/Small Business. Gen. Mike Murray, the leader of Army Futures Command, said this week the modernization-focused command must continue improving its engagement with small businesses, and specifically work on opportunities to allow non-traditional partners the ability to scale up innovative technologies. Murray noted the Army can't go to start-ups and say "hold on, I'll have money for you in two years," adding there's a lack of trust that they can sustain their business model based on the Army's budget process. "We're going to have to prove to small business that we can adjust our funding cycles to meet their needs," Murray said. Futures Command has to also improve the way officials describe problem sets to businesses that have not traditionally worked with the military. Murray's comments follow a GAO report released this summer that called on Futures Command to improve its small business engagement.
Heritage's Army Report. The author of a Heritage Foundation report that suggested the Army reorganize its modernization priorities detailed his argument on Friday at an event with the think tank, adding a suggestion that service leadership provide greater insight on the reasoning behind its reform decisions. Thomas Spoehr has suggested the Army retain long-range precision fires as its top priority, while moving network modernization higher up the list and bumping future combat vehicle and vertical lift platforms further down the list. "There were some places where I could not, frankly, understand why they were pursuing a particular modernization program to the degree they were," Spoeher said. The author said his report cautions against committing too swiftly to large modernization efforts with the assumption that a new major conflict is unlikely arise, citing the Future Combat Systems program canceled in the mid-2000s. "In the end, the counterinsurgency fights won and FCS lost," Spoehr said.
Remote ID Delay. The Federal Aviation Administration has delayed its rulemaking for remote identification of unmanned aircraft systems in the national airspace again without saying why. The new projected date for the Notice of Proposed Rulemaking is Dec. 20, with the comment period expected to close on Feb. 1, 2020. The delay prompted Brian Wynne, chief of the Association for Unmanned Vehicle Systems International, to release a statement saying he's disappointed in the delay and urged the agency to move forward on the rulemaking. "The need for remote identification cannot be overstated, as the advancement of the UAS industry depends on identifying and tracking UAS flying in the airspace, he said." Wynne also highlighted that, "Most importantly, remote ID is critical for ensuring airspace safety by helping law enforcement identify and distinguish authorized UAS from those that may pose a security threat."
New Office. General Dynamics, which has been planning to relocate its corporate headquarters in Northern Virginia for the past three-plus years, on Monday is settling in its new location in Reston, Va. Previously, the company spent 15 years at a Falls Church, Va., address. GD has about 150 employees at its headquarters. GD leased its Fall Church offices but now owns its new digs, which sit on a 21-acre site, in Reston, adjacent to the Washington & Old Dominion Trail that is popular with cyclists, runners and walkers.
Small Company News. Black Sage Technologies, which develops and produces counter unmanned aircraft systems technology, has named a new president, Rick Schmidt, a 38-year veteran of the aerospace and defense industry who most recently served as senior vice president and general manager of Vertex Aerospace. "As a leader in counter-UAS solutions, Black Sage faces a highly competitive, yet fragmented marketplace that needs an experienced aerospace and defense leader," said Rick Nagel, managing partner of Acorn Growth Companies, which owns Black Sage. Meanwhile, Drone Aviation, which makes the WASP family of tethered surveillance aerostats and quadcopter small UAS, has appointed current President Dan Erdberg as CEO following the passing on Aug. 31 of its previous Chairman and CEO Jay Nussbaum. Drone Aviation also appointed David Aguilar, a former acting commissioner of Customs and Border Protection, as its chairman.