Congress is scheduled to return from its annual August recess Sept. 9 and will waste no time diving into negotiations to flesh out the fiscal year 2020 defense authorization and appropriations bills.
The Senate Appropriations Committee announced Sept. 6 it has scheduled its long-awaited subcommittee markup session for the FY '20 defense appropriations bill on Sept. 10, with a full committee session set for Sept. 12 to consider four spending bills, to include defense. The House Appropriations Committee passed its version of the defense appropriations bill this past May with a $733 billion topline.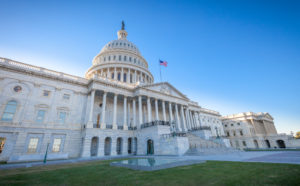 House- and Senate-appointed conferees are also expected to begin negotiations for the FY '20 National Defense Authorization Act (NDAA) next week, in an effort to pass a joint bill before the end of the fiscal year on Sept. 30.
Conferees will have just about three weeks to consolidate their respective bills in a variety of areas, including a topline authorization – the House-passed NDAA includes a $733 billion topline while the Senate version caps spending at $750 billion. Both chambers passed the Bipartisan Budget Act of 2019 in July, which caps defense spending at $738 billion for 2020 and $740.5 billion in 2021, meaning both versions of the bill will require modification to meet the agreed-upon cap levels. The presidential budget request released by the Pentagon in March included a $750 billion topline.
Recent reports that the White House has asked the Pentagon to free up $3.6 billion in existing military construction funds to build new barriers on the U.S.-Mexican border have sparked more conjecture that defense bills will be delayed. Democratic lawmakers have vowed to oppose the shift in funds, while many Republican lawmakers have indicated support.
The makeup of President Trump's proposed Space Force will be debated in NDAA conference talks. While the Senate and House versions of the bill each support standing up a new Space Force under the Air Force, they include different administrative changes that would affect future space acquisitions, including a move to create a new acquisition executive-level position for the Space Force in the Senate-passed bill. The fate of the proposed Space Development Agency (SDA) will also be under consideration, as lawmakers have remained skeptical about the usefulness of forming an agency to perform research and development for new space technologies.
Lawmakers either openly or privately expect at least a short continuing resolution will occur to keep the government open past Sept. 30. House Majority Leader Steny Hoyer (D-N.Y.) announced plans for the House to vote on the stopgap spending bill the week of Sept. 16 in a Sept. 5 letter to the Democratic caucus. Analysts including Byron Callan of the Capital Alpha Group said in emails this week to investors that a CR as yet should not present a "material risk" to defense, but it does raise the possibility of "December budget drama."
"We retain 80% odds that DoD sees regular FY '20 funding by mid-December," Callan said in a Sept. 4 email. The change in funding toplines imposed by the Bipartisan Budget Act may cause some confusion as the authorizers and appropriators in each chamber come to agreement, and "things may get a bit hazier … for defense and non-defense discretionary spending this fall before clearing up," Callan added.
The odds that a budget fight spills over into 2020 is unlikely as Trump and many lawmakers look toward elections next November, he noted. "While there may be stands on base-appealing issues, including border wall funding, avoiding further economic uncertainty may be paramount."