NATIONAL HARBOR, Md. – The first test flight of an autonomous vehicle built by Dynetics for the Defense Advanced Research Projects Agency's Gremlins program has been pushed back to later this year due to earthquake damage sustained at the Naval Air Station China Lake in California.
The Gremlins team had scheduled its first flight of a test vehicle for early September, but must wait for the range to become available again following two earthquakes July 4-5, said Tim Keeter, Dynetics deputy program manager and chief engineer.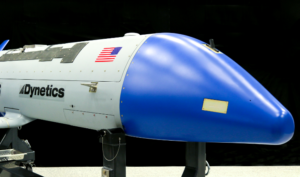 "The California earthquakes set that schedule back a little bit, and we're working to reschedule and get that in the queue as soon as possible," he said.
The test flight is the next key milestone for the DARPA program, which intends to demonstrate the viability of airborne recovery of autonomous or semi-autonomous vehicles from manned or unmanned aircraft for use in denied or contested environments, he told Defense Daily in a Sept. 16 interview at the Air Force Association's Air, Space and Cyber Conference here.
"We have learned … at this point everything that we can learn on the ground," he said. "We need to get in the air and fly. Our only thing holding us back right now is terrain availability, given the current circumstances."
Dynetics has participated in the Gremlins program since its inception in 2016, and in 2018 was awarded a Phase 3 contract worth $38.6 million for a 21-month demonstration phase. The entire program, run by DARPA's Tactical Technology Office, is expected to last 43 months and is worth up to $64 million.
The company and its industry team has performed various test flights throughout the Gremlins program, Keeter noted. This past January, it did a captive flight test with a full mass mockup vehicle operating out of a C-130 transport aircraft, and in April it performed a full test of the avionics package for the Gremlins system, placing it on a Calspan-made Learjet variable stability simulator and taking over flight of the Learjet "as if it were a Gremlins air vehicle" with a control system on the ground, he said.
In February, the team plans a second Learjet risk reduction demonstration, this time placing the control system within a C-130. Soon thereafter, the team will attempt its first recovery flight with a Gremlins air vehicle, eventually building up to launching and recovering four vehicles from a C-130 within 30 minutes – the "final demonstration of not just airborne recovery but at a rapid rate," Keeter said.
Given the delays with the test range at China Lake, that final test has slipped back to the mid-2020 timeframe, he added. Five test Gremlins air vehicles have been built to date.
Once the next flight tests is complete, the next phase will be to secure stakeholders to move the research-and-development effort into a program of record, he noted. A recent stakeholders event where Dynetics demonstrated a live engine test included over 30 interested individuals.
"The conversation was very energetic, very encouraging," Keeter said.
The industry team is working to keep the system "as generic as possible" to handle a variety of payloads, from sensors to weapons to humanitarian assistance, he added. "We have a generous swap for payloads. We can carry 150 pounds and we've got the ability for … side, forward and down-facing apertures."
"So what you want to put in it, what you want it to do – as long as we have the legs to get there, we think we can do that," he said.
The Dynetics Gremlins team includes Kratos Defense & Security Solutions, Inc. [KTOS] partnering with Composite Engineering, Inc., Sierra Nevada Corporation [SNC]/Kutta Technologies, Inc.; Applied Systems Engineering, Inc.; Williams International; Systima Technologies, Inc.; Airborne Systems; Moog Inc. [MOG.A]; and International Air Response.