The Air Force's XQ-58A Valkyrie unmanned aerial vehicle completed its second flight last week and completed all test objectives, the service said June 17.
The 71-minute flight took place June 11 at Yuma Proving Ground, Arizona, according to an Air Force Research Laboratory (ARFL) statement. The first flight took place March 6, and three additional test flights are planned for this year.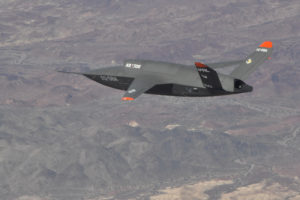 AFRL developed the long-range, high subsonic UAV in partnership with Kratos Defense and Security Solutions under its Low Cost Attritable Aircraft Technology (LCAAT) portfolio. The aircraft has been cited as a key example of the Air Force's new "Skyborg" initiative, which seeks to develop ways to use AI to control low-cost aircraft for use in congested airspace (Defense Daily, March 15). Air Force Assistant Secretary for Acquisition, Technology and Logistics Will Roper is spearheading the effort.
The Air Force is considering buying 20 to 30 additional XQ-58A aircraft, with a program decision to come as early as fiscal year 2021, Roper told reporters Monday on the sidelines of the Paris Air Show, Defense News reported.
The Air Force requested nearly $103 million in fiscal year 2020 research, development, test and evaluation (RDT&E) funds for aerospace technology development and demonstration efforts, including LCAAT with the XQ-58A, and lawmakers have appeared to support further development in their defense budget markups.
The House Appropriations Committee included an additional $50 million for LCAAT in their defense spending bill, which was passed by the committee May 21 (Defense Daily, May 20). The bill is being considered on the House floor this week. The House Armed Services Committee's passed version of the National Defense Authorization Act (NDAA) added $20 million to the program line, including $15 million for LCAAT specifically.
The Senate Armed Services Committee's version of the NDAA, which was passed out of committee May 22, supported efforts to explore "collaborative pairing with manned platforms, potentially including the F-35," and recommended an increase of $100 million for the "continued development and transition of the LCAAT," according to report language released June 13.
"The committee views the combined application of commercial technology, autonomy, and artificial intelligence as an innovative solution to meeting the demands of the National Defense Strategy," said the bill report. The Senate Appropriations Committee has not yet released a bill summary or language for its FY '20 defense spending bill.