The Army on Friday awarded two prototype awards, totaling nearly $190 million, for vendors to develop the software backbone of the service's future live and virtual networked training capability, the Synthetic Training Environment (STE).
Software firm VT MAK, a subsidiary of VT Systems
, and Vricon, a Saab and DigitalGlobe joint venture, each received deals to build separate components of the STE Common Synthetic Environment (CSE), with the aim of delivering an initial operational capability by September 2021.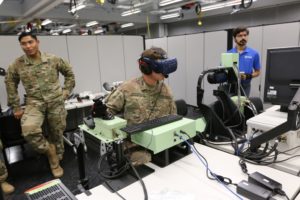 "The Common Synthetic Environment is the platform enabler of the Synthetic Training Environment that will allow units and soldiers to conduct realistic, multi-echelon, collective training anywhere in the world," Army officials wrote in the award notice.
VT MAK received $95 million to build CSE's Training Simulation and Software (TSS) and Training Management Tool (TMT). Vricon was awarded $94.8 million to complete development of the One World Terrain visual mapping software.
The two companies are tasked with developing CSE components that will be used to run a battalion set of new air and ground training platforms by fourth quarter of 2021, with the Army also looking to reach Final Operational Capability by FY '23.
Maj. Gen. Maria Gervais, director of the STE Cross Functional Team, told reporters in May the Army had recently completed a series of user evaluations as part of the multi-stage CSE competition (Defense Daily, May 15).
VT MAK officials said its CSE capability is based on the company's full suite of simulation software, including a unified simulation engine for AI-enabled tools, the base system for trainee interfaces with the simulators and a new graphical user interface.
"Every technical advancement in our past dozen years has brought MAK to this achievement — where we are able to offer our capabilities and architecture that precisely meet the needs of the U.S. Army's ambitious STE Common Synthetic Environment," Dan Brockway, VT MAK's vice president of marketing and information systems, said in a statement.
Army officials added that Vricon's One World Terrain software may see expanded operational requirements if the technology demonstrates potential applications across the services.
Follow-on production contracts are set to follow the prototype awards, and the complete CSE system is expected to be fielded to over 400 Army locations once it reaches FOC.
"A follow-on effort could involve, though is not limited to, the potential requirement for continued development and baseline management, further scaling of the solution, integration of future Synthetic Training Environment capabilities, or integration of the capability to fit within the Department of Defense's future state of operation and training requirements," Army officials wrote.
Prototype awards for STE's Air and Ground Reconfigurable Virtual Collective Trainers, which will replace legacy simulators, are also expected to be awarded in June.