The Navy recently declared the U.S. 2nd Fleet has reached full operational capability (FOC) over a year after the force was reestablished in the summer of 2018.
The Navy said reaching FOC on Dec. 31 marks 2nd Fleet's ability to sustain command and control over assigned forces using the operational functions and processes of the Maritime Operations Center and Marine Headquarters according to Navy doctrine.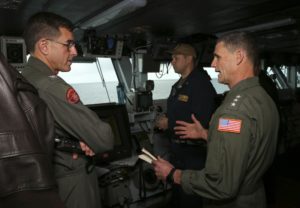 The 2nd Fleet is headquartered in Norfolk, Va., and has operational authorities over assigned ships, aircraft, and landing forces on the East Coast of the U.S. and the North Atlantic.
The command previously achieved initial operational capability in May 2019 (Defense Daily, May 30).
2nd Fleet led the 2019 Baltic Operations (BALTOPS) exercise in June 2019, which involved 18 countries operating in a joint maritime-focused exercise in the Baltic region (Defense Daily, June 24).
It followed up the exercise by setting up a temporary 30-person expeditionary Maritime Operations Center (MOC) in Keflavik, Iceland to provide the U.S. Naval Force Europe commander with the ability to lead forces form a forward-operating location. The MOC executed command and control of ships assigned to a Surface Action Group made of a cruiser and several destroyers, which are otherwise part of the Harry S. Truman Carrier Strike Group (Defense Daily, Sept. 26).
2nd Fleet was first disestablished in 2011 with most of its assets, personnel, and responsibility shifted to U.S. Fleet Forces.
Former Chief of Naval Operations Adm. John Richardson reestablished 2nd Fleet on the recommendation from the Secretary of the Navy's Strategic Readiness Review. He announced the fleet's return last May (Defense Daily, May 7, 2018) and Vice Adm. Andrew Lewis was nominated to lead it in June 2018 (Defense Daily, June 12, 2018).
2nd Fleet was then officially reestablished in August 2018 (Defense Daily, Aug. 24, 2018).
Upon declaration of FOC, Lewis underscored the importance of 2nd Fleet.
"Within an increasingly complex global security environment, our allies and competitors alike are well aware that many of the world's most active shipping lanes lie within the North Atlantic," he said in a statement.
"Combined with the opening of waterways in the Arctic, this competitive space will only grow, and 2nd Fleet's devotion to the development and employment of capable forces will ensure that our nation is both present and ready to fight in the region if and when called upon," he added.
In late 2018, Lewis spoke about how the Fleet's activities in the North Atlantic and Arctic are in part geared against Russian threats (Defense Daily, Nov. 30, 2018).
"Let's be frank, the Russian undersea threat is real…they are very competent and operationally capable," Lewis said.
The 2nd Fleet activities seek to develop operations that will be operationally unpredictable to competitors like Russia while remaining predictable with allies and partners.
The Navy said 2nd Fleet focuses on forward operations and employing combat ready naval forces in the Atlantic and Arctic and with a smaller focus on force generations and the final training and certification of forces preparing for operations.
"Our involvement in force generation is limited to the integrated phase – the final stages of the training cycle when our ships are operating at the high-end in aggregate. This is an important distinction from the previous 2nd Fleet that disestablished in 2011 in that it aligns us with all other OCONUS numbered fleets," Lewis said with the FOC announcement.