The 2019 Baltic Operations (BALTOPS) exercise ended on June 21 after finishing more serials than last year and conducting simultaneous amphibious operations across the Baltic Sea for the first time.
The 18-country multinational, joint, maritime-focused exercise was led by the U.S. 2nd Fleet and started in Kiel, Germany.
The Navy underscored this year's iteration included 389 completed serials, compared to 98 in the 2018 exercise. Serials are a planning term for a coordinated military exercise.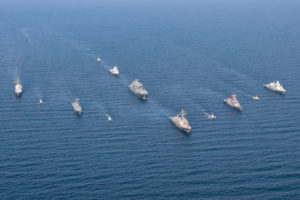 This exercise also had a first whenthe Joint Expeditionary Force, Maritime (JEF-M) led as the amphibious task force commander. JEF-M is a joint force led by the U.K. that is "an adaptable high-readiness force that can be stood up anywhere, at any time and in any environment," the Navy said.
A NATO Amphibious Leaders Expeditionary Symposium's concept of multinational command and control of an Amphibious Task Force-level capability was implemented for the first time. This allowed the coordinated command and control of naval forces across different nations' amphibious forces.
As a result of these changes, for the first time BALTOPS conducted simultaneous amphibious operations in both the Eastern and Western Baltic Sea. The Navy said this was "unprecedented" and has not happened in any other BALTOPS or any other exercise.
When BALTOPS opened, the Navy underscored it would have a focus on mine warfare with the exercise featuring MK 19 Mod II unmanned undersea vehicle technology and other capabilities working together for the first time (Defense Daily, June 11).
Beyond any planning, U.S., Germany, Danish, and Norwegian sailors ended up clearing more than 10 World War II-era bottom mines from the coast of the Bundeswehr Military Training Area in Todendorf, Germany.
In another mine warfare first, U.S. Helicopter Sea Combat Squadron Two Eight (HSC 28) used the Northrop Grumman [NOC] Airborne Laser Mine Detection System (ALMDS) and BAE Systems Airborne Mine Neutralization System-Archerfish (AMNS-AF) to operate and expand anti-mine warfare capability. The Navy plans to use these capabilities with Littoral Combat Ships equipped with the mine countermeasures (MCM) mission package.
2nd Fleet Commander Vice Adm. Andrew Lewis said he was satisfied with the results of this BALTOPS.
"The end state of the exercise is to build readiness. That readiness shows a cohesion in NATO and our allies and partners. It shows unity and commitment to security globally, not just in the Baltic," he said in a statement.
"Our combined efforts during BALTOPS demonstrates our commitment to regional peace and prosperity. Our presence and professionalism in the region during this exercise will prepare us for future operational commitments and evolving strategic challenges. We are stronger together," he added.
BALTOPS participants included NATO members Belgium, Denmark, Estonia, France, Germany, Latvia, Lithuania, the Netherlands, Norway, Poland, Portugal, Romania, Spain, Turkey, the U.K., and the U.S. NATO partners Finland and Sweden also participated.