This year's Baltic Operations (BALTOPS) exercise is putting a focus on mine warfare, featuring new undersea unmanned vehicles (UUVs), among other capabilities.
The U.S. 2nd Fleet is leading BALTOPS from June 9 -21, which started in Kiel, Germany on Sunday. Vice Adm. Andrew Lewis, commander of 2nd Fleet, is leading the exercise on behalf of Naval Forces Europe.
Lewis visited with forces from the BALTOPS Mine Warfare Task Group (CTG 162.60) on the first day of operations to underscore the emphasis on mine warfare. It is the largest Task Group under Lewis' command by number of ships, including 15 mine countermeasures (MCM) ships, 15 undersea unmanned vehicles (UUVs), five drone ships, airborne MCM, and over 70 divers. It also consists of mariners and mine warfare officials from 11 nations that comprise three task units led by Baltic Naval Squadron, Standing NATO MCM Group 1 and MCM Division 31.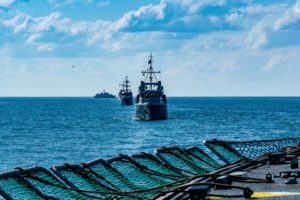 The Navy noted a new development that the Office of Naval Research (ONR) and Commander, U.S. Naval Forces Europe, Commander, U.S. Sixth Fleet Science Adviser will exercise new and existing Mk 18 Mod II UUV technology. They will partner with a German ship for the first time in the Baltic Sea.
MCM operations will also include the first time a U.S. flag officer is leading the Mine Warfare Task Group in the exercise. Helicopter Sea Combat (HSC) Squadron 28 will exercise airborne MCM capabilities in the Baltic Sea for the first time in over 10 years. Expeditionary Exploitation Unit 1 (EXU-1) will support the exercise for the first time since being established as a command in 2018 and the NATO Naval Mine Warfare Center of Excellence will integrate with the Task Group to support the development and refinement of tactics, techniques, and procedures with allied nations.
Rear Adm. Scott Robertson is leading the task group as the U.S. Navy's Global Mine Warfare Commander and commander of Naval Surface and Mine Warfighting Development Center.
During BALTOPS, the Mine Warfare Task Group is set to support the landing of amphibious forces by seeking and clearing inert training mines while also developing and refining new and existing capabilities, techniques, and procedures as a integrated team.
"We often talk about interoperability when we work together as partners and allies. But interoperability is just the first step toward full integration as a force. That is what we are after in this exercise, and the Mine Warfare Task Group is a great example of how we are moving in the right direction," Lewis said when visiting the task group.
Participants in CTG 162.60 include the U.S., Belgium, Denmark, Germany, Latvia, Lithuania, the Netherlands, Norway, Poland, and the U.K. The full BALTOPS exercise includes 18 nations to add Estonia, Finland, France, Portugal, Romania, Spain, Sweden, and Turkey.
BALTOPS will include 50 surface ships, 36 aircraft, two submarines, and 8,600 personnel.
This year's exercise is slated to focus on ground, maritime and air forces working together to exercise air defense, maritime interdiction, anti-subsurface warfare, amphibious operations, and mine countermeasures while strengthening the development of joint teams across all battlespace layers, the Navy said.
A U.K. Royal Navy official said BALTOPS represents a habit of operating as a coalition and multinational environment.
"One of the advantages, particularly in the NATO framework, as we operate together more and more we standardize our procedures so we now have a generation of military folks who are used to operating together with standard procedures," U.K. Royal Navy Rear Adm. Andrew Burns OBE said in a statement.