The Navy awarded Raytheon [RTN] a $1.03 billion contract for Standard Missile-6 (SM-6) full rate production requirements, spares, and round design agent.
The December 20 award covers multi-year procurement of fiscal year 2019-2023 SM-6 including all-up rounds, flight test rounds, spares, and round design agent.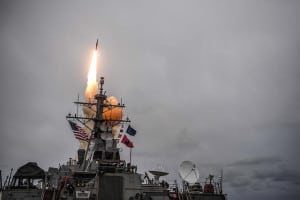 Work will be split largely between East Camden, Ark. (33 percent); Huntsville, Ala. (21 percent); Wolverhampton, United Kingdom (13.5 percent); Andover, Mass. (7 percent); and Middletown, Ohio (3.5 percent) and is expected to be complete by October 2026.
The award includes options that, if exercised, would raise the total value of the contract up to $1.08 billion.
Fiscal year 2019 Navy weapons procurement funds of $270 million were obligated at award time and will not expire at the end of this fiscal year,
The contract was not competitively procured in accordance with provisions in the U.S. Code and Federal Acquisition Regulations.
The SM-6 uses a blast-fragmentation warhead to intercept aircraft, cruise missiles, and ballistic missiles in their terminal phase. It combines elements like the rocket booster and rocket motors of the Standard Missile-3, the airframe of the Standard Missile-2, and seeker and nose cone of the Advanced Medium-Range Air-to-Air Missile.