Lockheed Martin [LMT] won a $1.96 billion modification for the detail design and construction (DD&C) of four Multi Mission Surface Combatant (MMSC) ships for Saudi Arabia.
The MMSC is based on the Freedom-variant Littoral Combat Ship built at subcontractor
Fincantieri Marinette Marine's shipyard in Wisconsin.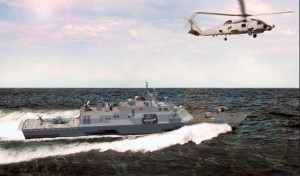 The December 20 MMSC award is part of a larger memorandum of intent the U.S. and Saudi Arabia signed in 2017 covering almost $110 billion in foreign military sales over 10 years (Defense Daily, May 22, 2017).
This award also includes associated cost-plus-fixed-fee class design and related material and firm-fixed-price integrated data environment
"This sale contributes to the foreign policy and national security of the U.S. by helping to improve the security of a strategic regional partner," the Defense Department said in the contract announcement.
Fifty percent of the work will occur in Marinette, Wisc. with the rest largely split between Washington, D.C. (17 percent), Baltimore, Md. (9 percent), and Moorestown, N.J. (7 percent) and it is expected to be finished by June 2026.
In October, Fincantieri Marinette Marine held a ceremony for cutting steel on the first Saudi MMSC (Defense Daily, Nov. 22).
Lockheed Martin started initial production of the first MMSC in 2019 and plans for the follow-on hulls to start work in six-month increments starting in late 2020. All four MMSCs are expected to be delivered by 2025.
Lockheed Martin previously won three long-lead-time modifications for MMSC in 2018, with each valued at hundreds of millions of dollars (Defense Daily, Nov. 20, 2018).