Naval Air Systems Command (NAVAIR) awarded Northrop Grumman [NOC] a $252 million modification to procure three low-rate initial production (LRIP) Lot 4 MQ-4C Triton unmanned aerial vehicle (UAV) on Dec. 20.
The award covers the three UAVs as well as ground stations, trade studies, tooling, and associated support equipment.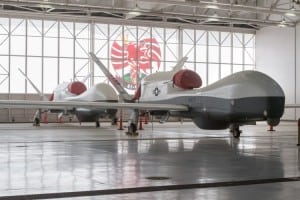 The work will largely be split among San Diego (30.5 percent), Red Oak, Texas (12 percent), Palmdale, Calif. (10 percent), Baltimore (9.7 percent), and Salt Lake City (7.9 percent), and is expected to be finished by February 2023.
The full award amount is obligated at time of award in Fiscal year 2019 Navy aircraft procurement funds, with none expiring at the end of this fiscal year.
In September, the company won a $376 million six-year delivery order for MQ-4C Multi-Function Active Sensor Radar Systems (Defense Daily, Sept. 27).
This type of unmanned aircraft was last in the news when Iran shot down an older model Navy RQ-4 Global Hawk Broad Area Maritime Surveillance-Demonstrator (BAMS-D) in June 2019. The Navy bought five of the aircraft from the Air Force as a demonstration platform before moving to the MQ-4C. The service kept flying them past the expected timeline because it found them useful and retained at least one deployed to the 5th Fleet headquarters in Bahrain (Defense Daily, June 20, 2019).
A month earlier, NAVAIR awarded Northrop Grumman a $65 million advance acquisition contract for long-lead components to build and deliver three MQ-4Cs for the U.S. and Australia. Two Tritons are designated for the U.S. Navy and one for Australia as low-rate initial production Lot 5 aircraft (Defense Daily, May 30, 2019).
In 2018, the Navy said the Triton would reach early operating capability with two MQ-4Cs in Guam in late 2018, with initial operating capability expected in 2021 (Defense Daily, April 9, 2018).