The U.S. Army on Wednesday signed an agreement with the Netherlands Ministry of Defence to share information on requirements and concepts between the two countries' future rotorcraft pursuits.
Under the new Future Rotorcraft Concept Analysis Project Arrangement, the U.S. and Netherlands will meet regularly to ensure interoperability and assess opportunities to reduce risk, get after cost savings and technological innovations related to helicopter modernization initiatives.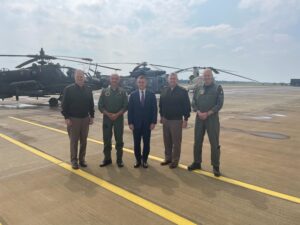 "It's hard to overestimate the importance of Future Vertical Lift (FVL) because what the U.S. Army is doing is nothing short of a revolution in rotary wing operations, both in the manned and unmanned domain," Air Commodore Robert Adang, commander of the Netherlands Defense Helicopter Command, told reporters following the signing of the agreement. "This will allow us to work on a daily basis with the U.S. Army in developing the new ideas and concepts that Future Vertical Lift will bring. We already established a team of people that are permanently engaged on Future Vertical Lift and now we have an agreement that gives them more room to maneuver. That will allow the U.S. Army to open up more information to us, thereby creating more synergy in our endeavors."
The FVL information sharing agreement with the Netherlands follows a similar deal signed with the U.K. in February, which also aims to share information to advance future rotorcraft development and assess collaboration opportunities related to U.S. Army programs like the Future Long-Range Assault Aircraft (FLRAA) and the Future Attack Reconnaissance Aircraft (FARA) (Defense Daily, Feb. 14).
Maj. Gen. Walter Rugen, director of the U.S. Army's FVL Cross-Functional Team, said the U.K. and U.S. team recently submitted the first draft study on FVL concepts, and added the agreement with the Netherlands will also include meeting semi-annually at the general officer level and more routine engagements at the colonel and action officer level.
"It allows us to talk concepts at sensitive levels. It allows us to talk requirements and it allows us to talk science and technology. So it gives us those authorities and so we don't have to talk around subjects," Rugen said.
Maj. Gen. Andre Steur, the Netherlands Defence Ministry's national capabilities director, detailed his country's plans for upgrading its fleet of CH-47 Chinooks, AH-64 Apaches, AS532 Cougar and NH-90 helicopters as part of the new "Defense Vision 2035" military modernization initiative.
"They're pretty much all being upgraded except for the Cougar. So we'll have brand spanking new Chinooks and Apaches. The NH90 will go through its mid-life update very shortly after that. We will be replacing the Cougar helicopter with a medium utility helicopter in the next few years," Steur told reporters.
The U.S. Army's FVL campaign includes pursuing FARA to find its new scout attack helicopter, while FLRAA is intended to replace the service's UH-60 Black Hawks.
For FARA, the Army has selected Bell's [TXT] 360 Invictus and Sikorsky's [LMT] Raider X designs for a competitive prototyping phase, with first test flights slated for next year. For FLRAA, Bell's V-280 tiltrotor offering is competing against a Sikorsky-Boeing [BA] team's Defiant X platform, with a production contract to be awarded later this year.
Doug Bush, the Army's top acquisition official, said the agreement with the Netherlands will increase cooperation opportunities to help "leverage program resources and thereby reduce acquisition costs, avoiding duplication of efforts and streamline acquisition efforts overall between our countries."
"This early alignment of our efforts will ensure interoperability in design and allow us to identify cooperative opportunities and economies of scale that have the potential to reduce program cost and risks for us both," Bush said.
Bush said Wednesday the service is thinking about more potential FVL agreements with international partners, while noting he didn't have any other official deals to announce right now.
"There are ideas about expanding the pool further, which we think could be hugely beneficial," Bush added.
At the Army's FVL-led EDGE22 experiment in May at Dugway Proving Ground in Utah, where the Netherlands was a participant, several countries at the event expressed interest in growing cooperation on aviation modernization efforts (Defense Daily, May 19).