U.S. Special Operations Command (SOCOM) is looking to bolster partnerships with small businesses on a range of new capability initiatives, from next-generation mobility to human performance optimization, citing increasing opportunities to work with the SOFWERX innovation hub.
After spending $1 billion in FY '20 on small business contracts, Bill Innes, SOCOM's deputy director for acquisition, said Monday the command is on pace to best that figure this year.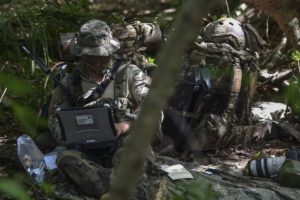 "The products that we supply, the [Special Operations Forces]-peculiar products and services we provide to SOCOM, kind of fit small business really well, so we have benefits there. We're not buying F-35s. A lot of it is smaller kit and it really aligns well with small business," Innes said. "We're not working with small business just because we want small business. We want to do it because they're innovative, they're non-traditional, they move fast and they meet our capability."
Innes said SOCOM will continue taking advantage of new agile acquisition authorities to get after its current capability focus areas, to include new ISR tools, advanced mobility, precision strike effects, direct energy capabilities, biotechnologies, network and data management systems and new technologies for its hyper-enabled operator initiative.
SOCOM is also interested in bringing in small businesses and non-traditional partners to assist with its portfolio of current science and technology initiatives, to include resilient communications, tailorable lethality, electronic warfare, human performance optimization and data-enabled operator tools that make use of artificial intelligence and machine learning, according to Innes.
The $1 billion in small business contracts last year accounted for 22 percent of the total $4.5 billion spent on programs controlled directly by SOCOM, Innes said at the National Defense Industrial Association's virtual Special Operations Forces Industry Conference.
Innes encouraged small businesses to take advantage of the opportunities to work with SOFWERX, which serves as an incubator for many of the new technology areas SOCOM is pursuing in the near future.
"[SOFWERX] is an arrangement with a non-profit organization that is a neutral party to represent the government to bring in technology and it holds all kind of different events to get technology from industry, like prize challenges, hack-a-thons," Innes said. "The engine of innovation that is SOCOM starts here with the Partnership Intermediary Agreements. It's the front door, if you will, to SOCOM. The best thing you can do is to join that SOFWERX ecosystem to be involved in any number of these things that we're executing."