General Dynamics Information Technology [GD] has received a new task order under DISA's Defense Office Enterprise Solutions (DEOS) program to work on supporting the Marine Corps' ability to operate enterprise cloud computing solutions in environments where network bandwidth is limited or denied.
GDIT said the task order will serve as a "proof-of-concept validation" for the ability to support DoD customers' access more broadly to Microsoft [MSFT] Office 365 products when having to operate within Denied, Disconnected, Intermittent and Limited Bandwidth (DDIL)-contested battlefield networks.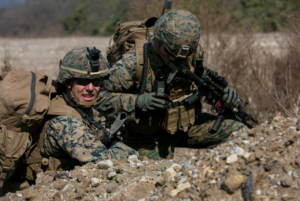 "This new work will provide and test powerful collaboration capabilities for the warfighter while driving efficiencies. It will also provide critical input to the DoD DDIL working group as they continue to focus on finding solutions for seamless operations in such environments," Leigh Palmer, senior vice president for GDIT's defense division, said in a statement.
DISA and the General Services Administration re-affirmed GDIT as the winner of the potential 10-year, $4.4 billion DEOS contract in October 2020, following a series of protests by Perspecta [PRSP] (Defense Daily, Oct. 30 2020).
Under DEOS, GDIT, and its team of Dell [DELL] Marketing L.P. and Minburn Technology Group LLC, is tasked with building off Microsoft's Office 365 platform, as the Pentagon looks to establish a more effective cloud tool for its email, file sharing and storing applications.
"The Pentagon is deploying DEOS in several environments, including the DDIL environment, where reliable and timely connectivity to warfighters at the tactical edge is critical," GDIT wrote in a statement. "GDIT will also partner with Microsoft to test capabilities, investigate scenarios, and provide applicable recommendations for mission partners deployed in a DDIL environment."
The blanket purchase agreement for DEOS includes a five-year base period, with two two-year options and one one-year option.