The Senate on Tuesday evening voted down a Republican proposal to add $50 billion in defense-related infrastructure spending to the $3.5 trillion budget resolution plan.
The amendment led by Sen. Richard Shelby (R-Ala.), the top Republican on the Appropriations Committee, along with Sens. Jim Inhofe (R-Okla.), the Armed Services Committee ranking member, and SASC Member Roger Wicker (R-Miss.), was rejected by a bipartisan 53-46 vote.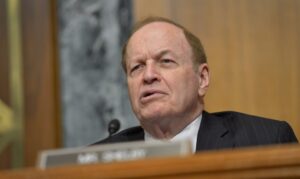 Three Republicans–Sens. Rand Paul (Ky.), Mike Lee (Utah) and Mike Braun (Ind.)–joined all Democrats in voting against the measure.
The proposal included $25.4 billion for shipyard infrastructure improvements, $4 billion to "help reduce the backlog of [military] facility infrastructure projects," $4 billion for modernization of test and training ranges, $2 billion for high-priority military construction projects, $4.5 billion for depot modernization, $2.5 billion for ammunition plant modernization, $2.5 billion for 5G wireless networking technologies and $3.9 billion for defense activities at the Department of Energy.
Sen. Jack Reed (D-R.I.), the chairman of the Senate Armed Services Committee, called out the amendment during debate before the vote for lacking specifics on how the resources would be spent.
The Senate ultimately approved the $3.5 trillion budget resolution by a 50-49 vote along party lines, with the proposal calling for a total $765.7 billion fiscal year 2022 defense budget and one to two percent defense spending increases in the coming years (Defense Daily, Aug. 9)
This was the GOP senators' second attempt to add the spending, after the language didn't receive a vote during debate on the $1.2 trillion bipartisan infrastructure bill the Senate passed earlier on Tuesday.