The Army has selected Sierra Nevada Corp. (SNC) and
General Dynamics Missions Systems [GD] for a potential 10-year, $774.2 million deal to deliver the Next Generation Load Device-Medium (NGLD-M) modernized cryptographic key device.
The new NGLD-M will replace the current Simple Key Loader device and other legacy products beginning in fiscal year 2024 in what the service called the "biggest materiel change in cryptographic key delivery in 20 years."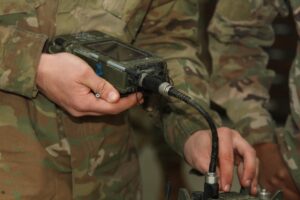 "The NGLD-M will enable delivery of the strongest NSA-generated cryptographic keys to tactical, strategic, and enterprise network systems operating from secret to the highest levels of security classification. Through over-the-air capability, modern cryptographic algorithms will be transferred by NGLD-M to counter the threats posed by increased proliferation of adversarial cyber and electronic warfare," Paul Mehney, spokesman for the Army's Program Executive Office Command, Control, Communications-Tactical (PEO C3T), said in a statement.
The Army said it will award initial orders to both companies totaling $73.9 million for NGLD-M development and low-rate initial production beginning in FY '24.
A full-rate production is expected in FY '25, according to the Army, as the program works toward a total of up to 265,000 units to replace SKL devices across the military services, other government agencies and with allies and partners.
"The new NGLD-M is a network enabled device allowing network management Soldiers to reconfigure cryptographic products, perform Over-The-Network-Keying, conduct remote software downloads, and improve operational environment awareness," the Army's PEO C3T wrote in a statement.
SNC previously worked on the SKL program for 15 years, to include receiving a $318.9 million deal last August for continued production, engineering and sustainment support services.