The Pentagon's Joint Requirements Oversight Council (JROC) will hold an industry day in the coming months to brief companies on capabilities required for the new Joint Warfighting Concept (JWC) and the recently approved four strategic directives, the group's leader said Wednesday.
Air Force Gen. John Hyten, vice chairman of the Joint Chiefs of Staff and head of the JROC, said the industry engagement will provide details at the classified level to ensure private sector partners have the necessary insight to work on solutions that align directly with new joint requirements.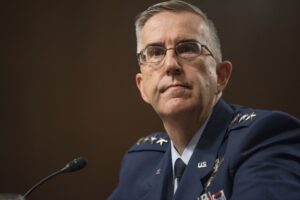 "What we're going to do is sometime in the next month we're going to have an industry day. The JROC's going to have an industry day. And the JROC and the Joint Staff are going to brief the Joint Warfighting Concept and the details of the four strategic directives to our industry partners. We're going to invite you in and say this is where we see the future," Hyten said during remarks at the Space and Missile Defense Symposium in Huntsville, Alabama. "If we don't share the concepts with [industry] then you have no idea where we're going. So, we're going to invite you in to have that conversation."
Last month, Hyten detailed the JWC's new emphasis on "Expanded Maneuver" and confirmed the JROC has now published requirements for the four strategic directives – contested logistics, joint fires, Joint All Domain Command and Control (JADC2) and information advantage – driving each of the service branches' individual contributions to the department's new operational concept (Defense Daily, July 26).
Hyten, who is retiring on Nov. 21, said the industry day may include details on the JROC's ongoing Integrated Air and Missile Defense (IAMD) capability gap assessment if it's completed by the time of the event.
"We don't have real good campaign-level modeling across all domains, including space and cyber, [that assessment] shows how all these things fit together across the board," Hyten said, adding he believes it will be ready by the end of this fall.
The IAMD assessment will inform the Pentagon's ongoing Missile Defense Review, which along with the upcoming Nuclear Posture Review will be integrated as part of the next National Defense Strategy, rather than as individual documents, according to Hyten.
"I think that's the most important piece of the puzzle, because in the past the Nuclear Posture Review has been separate from the Missile Defense Review and then in the end it became very difficult to align them together for a singular message," Hyten said.