Polaris [PII] is eyeing potential international interest in its newest light tactical vehicle, the MRZR Alpha, unveiling the platform to the public for the first time at this week's DSEI defense trade show in London.
"DSEI is a premier international defense trade show and we're delighted the MRZR Alpha will make its public debut here for a global audience. The U.S. and its allies collaborate constantly and commonality is a crucial element. The MRZR Alpha is the most revolutionary capability we've developed to-date and we think it will become just as critical for light infantry around the world as the MRZR and DAGOR platforms have become," Steve Canner, Polaris manager for Europe, the Middle East and Africa business, told Defense Daily
.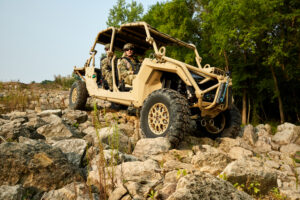 In May 2020, Polaris was awarded a seven-year, $109 million deal to deliver the MRZR Alpha as the latest version of U.S. Special Operation Command's Light All-Terrain Tactical Vehicles (LTATV). Under that contract, Polaris is also supplying the platform to the Marine Corps (Defense Daily, June 5 2020).
Mark Schmidt, Polaris' defense program manager, confirmed to Defense Daily that Polaris has delivered 30 MRZR Alpha's to SOCOM and the Marines to date for performance and operational testing.
Polaris said the MRZR Alpha will remain in the U.K. following the DSEI show, with the intent to conduct briefings and demonstrations for prospective customers.
Last September, Polaris noted the new platform features an expanded payload capacity, improved chassis and an 8-speed automotive transmission (Defense Daily, Sept. 1 2020).
MRZR Alpha also includes an 118 hp turbo-diesel engine that "provides 220 ft-lbs of efficient torque," the company noted, is internally transportable via V-22 Osprey, and is designed for mission roles ranging from indirect fire weapons, explosive ordnance disposal systems, mobile network capabilities, missile launch and logistics.