Polaris [PII] has received a seven-year deal worth up to $109 million to continue providing Light All-Terrain Tactical Vehicles (LTATV) to U.S. Special Operations Command, the company said Thursday.
Under the deal, awarded through a Government Services Administration (GSA) contract, Polaris will deliver the latest version of its ultralight tactical vehicle platform, the MRZR Alpha.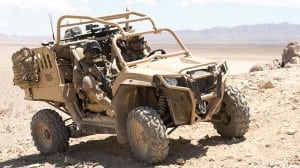 "Polaris has had the privilege of providing vehicles to USSOCOM since 2005 and we take a great deal of pride in delivering and supporting the current LTATV," Jed Leonard, vice president of Polaris Government and Defense, said in a statement. "The Polaris MRZR Alpha supports USSOCOM's requirements for durability, performance, payload profile and internal air transportability."
The latest version of the LTATV, the MRZR Alpha, is specifically designed for improved exportable power and capability to handle increased payload, according to the company.
SOCOM last awarded an LTATV deal to Polaris in 2015, when the company received a five-year IDIQ contract for up to 2,000 MRZR vehicles (Defense Daily, March 25 2015).