L3Harris [LHX] has been tapped to missionize three King Air 350ER aircraft, which are set to be delivered to Canada, with equipment to enable intelligence, surveillance and reconnaissance operations, the company said Monday.
Under the deal, L3Harris will outfit the aircraft with "full-motion video sensors, a mission management system and communication datalinks," according to the company.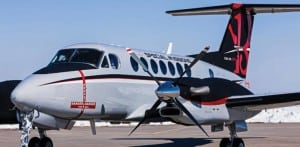 "Our L3Harris team is ready to combine our ISR, missionization and modification solutions to deliver a system that will enhance the capabilities and security of Canada and its allies. L3Harris has the distinction of successfully delivering more certified, special mission King Airs on-time and on-budget than any other contractor in the world, and we look forward to maintaining that tradition," Sean Stackley, the company's president for integrated mission systems, said in a statement.
The contract is part of a larger $300 foreign military sale with Canada for the modified King Air 350ER aircraft, built by Textron [TXT] Aviation's Beechcraft, that the State Department approved in October 2018 (Defense Daily, Oct. 4 2018).
At the time, the State Department said the deal would include L3Harris WESCAM MX-15D Electro-Optical and Infrared Imaging Sensors.
L3Harris said modification work for the aircraft will also include "sensors integration, secure communications and navigation systems, as well as pilot, operator and maintenance training."
"The capability upgrades offer increased threat indications and warning, as well as high-accuracy target detection and location," the company wrote in a statement.