The Pentagon on Monday detailed two additional 5G telecommunications pilot programs, with plans to test virtual reality capabilities with the Army and explore 'smart warehouse' technologies for the Navy.
Officials are soliciting feedback from industry on  the draft request for prototype proposals for the projects, with plans to distribute final RPPs to members of the National Spectrum Consortium in the coming weeks.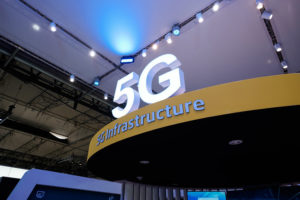 Pentagon officials in October announced plans to start 5G technology experimentation at four installations across the country to enhance current military capabilities and more rapidly deploy 5G to the force (Defense Daily, Oct. 23)
The latest notice details plans for an augmented and virtual reality program with the Army at Joint Base Lewis-McChord in Washington to develop tools that enable "combat-like training in combat training locations enhanced by 5G communications technologies."
"The purpose of this effort is to demonstrate how 5G communications technologies can support realistic distributed training and develop fieldable equipment and systems to integrate these technologies into ongoing training operations," officials wrote. 
Industry would be asked to demonstrate 5G-enabled tools for distributed training that allow rapid transfer of information to users, deliver ground instrumentation data, support simulated computing environments and replace command and control data.
The second new program announced Monday will support a 'smart warehouse' program at the NAVSUP Fleet Logistics Center in San Diego, which looks to utilize advanced wireless 5G communications to improve processes and automation for warehouse operations.
"Smart warehouse technology will be the key enabler in improving processes and increasing the efficiency, accuracy, and fidelity of over-all logistic operations in support of warfighter readiness," officials wrote. "This project will leverage 5G networking in a Naval Base warehouse environment to identify, test, validate, and transition into operational use the 5G enabled warehouse and logistics improvements that improve the efficiency, accuracy, security, and safety of materiel and supply handling, management, storage, and distribution."
Final RPPs will be distributed to members of the National Spectrum Consortium, with companies able to submit individual proposals or team up to submit a combined proposal.
Industry responses to the draft RPPs for both projects are due by Dec. 23. 
Last week, the Pentagon detailed the first two programs that included a "smart warehouse" program at Marine Corps Logistics Base Albany in Georgia and a project out of Hill Air Force Base in Utah that looks to develop 5G dynamic spectrum sharing capabilities between airborne radar systems and 5G cellular systems (Defense Daily, Dec. 2).