Oshkosh Defense [OSK] has received a new deal, worth potentially $159 million, to deliver nearly 600 Family of Medium Tactical Vehicle trucks to Israel, the company said Tuesday.
An initial $25 million order has been placed to deliver 91 FMTVs beginning in July 2020.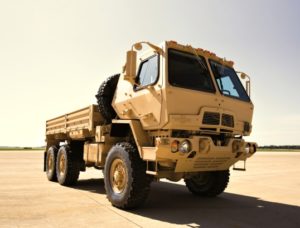 "We are delighted to provide the Israeli Defense Forces with an additional fleet of highly capable and highly reliable FMTVs. To date, we have delivered over 160 FMTVs to Israel, and we are confident that the FMTV platform will continue to serve the Israeli customer well," the company said in a statement.
The foreign military sale will eventually cover 589 of the Israeli-variant FMTV, which is modified to handle an increased payload, features a metric-compliant dashboard and is able to carry a 20-foot ISO container.
Deliveries to Israel under the latest FMTV order are expected to be completed by October 2024.
Israel last signed an FMTV deal in January 2017, ordering 200 trucks for $52 million.