The State Department approved a potential $150 million Foreign Military Sale (FMS) to refurbish the Oliver Hazard Perry-class frigate ex-Robert G. Bradley (FFG-49) for Bahrain.
The Defense Security Cooperation Agency (DSCA) notified Congress of the sale on Oct. 22.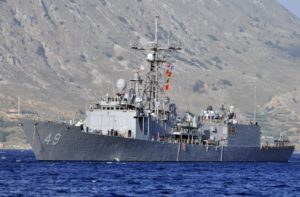 Bahrain requested the refurbishment of FFG-49, spares, support, training, publications, and other logistics and program support.
DSCA noted the primary contractor for this refurbishment has not been selected yet.
The agency said this sale will help an ally improve its security, a foreign policy and national security goal for the region.
"This sale is consistent with U.S. initiatives to provide key allies in the region with systems that will enhance interoperability with U.S. forces and increase security," DSCA said in a statement,
The agency noted this sale to refurbish and grant transfer of the ex Robert G. Bradley was specifically authorized in the FY 2019 Defense Authorization Act. The legislation said any cost incurred by the transfer will be charged to Bahrain.
The legislation also specifically directs the president to require, as a condition of the transfer, for the ship refurbishment to be performed at a shipyard in the U.S., including U.S. Navy shipyards.
DSCA noted Bahrain already operates another Oliver Hazard Perry-class frigate and will have no difficulty absorbing the capability.
The U.S. Navy decommissioned FFG-49 in March 2014 in Mayport, Fla., and at the time it was slated to be offered for FMS.