Oshkosh Defense [OSK] has developed a new command and control platform based on its Joint Light Tactical Vehicle that it pitched to the Army last week as a potential option for a future armored, mobile command center. 
The new Light Combat Tactical All-Terrain Vehicle Command and Control (L-ATV C2) was displayed for the first time at the Association of the United States Army conference in Washington D.C. and was showcased with an L3Harris Technologies [LHX[ communications suite.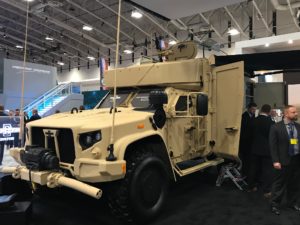 "Right now, the only way they can have command and control on a light tactical vehicle is unprotected. They've got to stop and set up. So we thought there was a gap and we decided to develop a protected command and control center that keeps up with the formation and allows you to do these activities on the move," George Mansfield, Oshkosh's vice president of Joint Programs, told Defense Daily.
Mansfield said, while the Army does not have a current program of record for such a vehicle, ongoing discussions have pointed to a need for a vehicle option that provides increased protection and maneuverable C2 for soldiers on the battlefield.
"At this show, both the Army and the Marine Corps have shown great interest in this. We will take this and have more discussions with the customer as we modify things inside the vehicle and what we put on it," Mansfield said.
Mike Jordan, a senior principal engineer for Oshkosh's C4ISR group, noted the L-ATV C2 is designed to provide increased armor protection over what's available with the Army's current battlefield C2 centers, the S-250 shelter and S788 vehicle.
"This shelter right now is protected from small arms rounds. Most of those other shelters are actually protected with thin aluminum and insulation, so small arms would go right through those," Jordan told Defense Daily. 
L-ATV C2 is also equipped with four of FLIR Systems' [FLIR] Black Hornet micro UAVs to provide situational awareness and persistent surveillance for up to two kilometers around the vehicle.
Mansfield said Oshkosh modified the JLTV's flatbed to build out the C2 center, which is designed with floor to ceiling equipment racks for modularity.
"It's totally customizable. Right now it's set up for two operators and a gunner, and they've got four monitors on the wall that they can see what's going on," Mansfield.
Oshkosh is currently delivering JLTVs to the Army, and the program moved into full-rate production over the summer (Defense Daily, June 21).