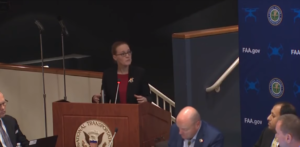 Members of the Federal Aviation Administration's Drone Advisory Committee unanimously approved recommendations for the agency to consider regarding remote identification and unmanned aircraft systems (UAS) security issues, which were highlighted by a recent Blue Ribbon Task Force report on UAS Mitigation at Airports.
Committee recommendations on remote ID for drones focused on efforts to encourage voluntary equipage, as the FAA has noted it is likely 24 months away from official rulemaking on that issue. The agency is scheduled to release its proposed rulemaking on remote ID on December 20 of this year.
"There's probably no schedule that we could ever show that would be fast enough [for implementation of remote ID]," Jay Merkle, director of the FAA's UAS integration office, said last Thursday at a committee meeting.
Remote ID is seen as a critical "gate" for rulemaking around drones. Like a digital license plate, this signal broadcast by a drone would identify its operator and potentially provide other information such as purpose, flight path and payload. The FAA views remote ID as critical to enabling safe flights beyond the operator's visual line of sight and law enforcement sees it as necessary to combat careless or criminal drone operators violating the law or airspace restrictions.
Left unaddressed at this meeting: what information will actually be contained in remote ID and who will have access to it, critical concerns for both law enforcement professionals and privacy advocates.
Since April 2016, Los Angeles International Airport has documented 205 reports of drone activity near the airport, but was only able to identify and contact the operator of the drone in one instance, according to CEO Deborah Flint, a member of the DAC. Drone sightings close to the runway at Gatwick Airport in December 2018 famously caused the cancellation of hundreds of flights, affecting approximately 140,000 passengers.
Overwhelmingly, most drone sightings are single-source reports that are never confirmed. Most of the remaining sightings fall under the category of "careless and clueless" operators, rather than actors with malicious intent, though a clueless recreational flyer still has the potential to place airport operations at risk.
The National Security Council is working on a national-level response to "persistent UAS disruption" at a major airport, like the Gatwick incident. The project, called Core 30 CONOPs, will incorporate drone detection and mitigation techniques to determine effective technologies for the mission, what authorities are needed and other best practices.
"Right now, no one has the authority in a steady state to provide that type of counter UAS protection at airports," Angela Stubblefield, deputy associate administration for Security and Hazardous Materials at the FAA, said at the meeting. "Therefore, in a circumstance like a Gatwick scenario from 2018 where you have a persistent disruption, how do we take the authorities that exist, the technologies that are deployed, and get it into the airport environment to address that risk as quickly and as capably as we can?
"That CONOPs is in final steps of approval within the National Security Council. All of the departments and agencies have weighed in," Stubblefield said.
In response to a question about protecting non-Core 30 airports, Stubblefield said there are resource limitations with regard to counter UAS capability.
"There's a lot of T&E going on, but not as many systems deployed actively in the airspace as are planned. So it becomes a little bit of a volume issue," Stubblefield said. "We wanted to focus first on those airports that, if disrupted, would have the biggest impact across the system."
Many other security recommendations focused on voluntary activity by drone manufacturers, such as the equipage of transponders on drones to alert operators of nearby manned aircraft, something which Chinese drone maker DJI announced it will add to all its new models weighing 250 grams or more released after Jan. 1, 2020.