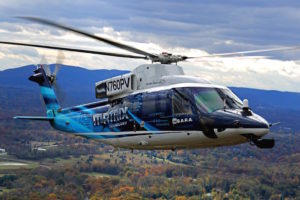 The upcoming final flight test of the Aircrew Labor In-Cockpit Automation System (ALIAS), funded through the Defense Advanced Research Projects Agency (DARPA), will feature remote or autonomous flight of a modified Sikorsky UH-60M Black Hawk helicopter–a test that may have significant implications for military service combat missions and the urban air mobility (UAM) market.
DARPA said that the final ALIAS flight test may come in late summer next year.
"As the biggest fleet of aircraft in the U.S. Army and widely relied on by the Department of Defense, the Black Hawk is the ideal platform for ALIAS to quickly benefit service partners," Army Lt. Col. Phil Root, DARPA's ALIAS program manager, said in an emailed statement.
"Testing mission scenarios allows transition partners to see those benefits firsthand," according to Root. "The final DARPA demo plans to demonstrate uninhabited flight or fully autonomous flight from taxi to takeoff to landing and shutdown. This will require a robust capability not only to avoid obstacles, but also to respond to in-flight emergency procedures if needed. This maps well to future mission needs in support of single pilot operations."
Sikorsky is a business unit of Lockheed Martin [LMT].
The agency funded ALIAS at nearly $17.2 million in fiscal 2018 and $10 million in fiscal 2019 but has requested no funding for the program in fiscal 2020. The latter "decrease reflects program completion," according to the Pentagon justification book on the fiscal 2020 DARPA budget request.
ALIAS will allow "affordable, rapid automation of selected aircrew functions across a broad range of aircraft," according to DARPA.
DARPA may spend research and development funds appropriated by Congress over two years, and ALIAS funds placed on contract are available for five years. In addition, Lockheed Martin has invested internal research and development funds in the program under the Other Transaction Authority (OTA) ALIAS agreement with DARPA.
Launched in August 2013, Sikorsky's Matrix technology appears to be key to the company's efforts to break into the UAM market. Developed through ALIAS, Matrix is a drop-in retrofit kit that introduces autonomy into existing aircraft to lighten the workload on human crews. Other Matrix applications are also possible, including offshore oil, emergency medical services, and search-and-rescue missions.
Sikorsky has been flight testing its S-70 Optionally Piloted Vehicle (OPV) Black Hawk in West Palm Beach, Fla., and the company and L3Harris Technologies [LHX] are resolving data link issues disclosed after the first flight of the OPV on May 29. The S-70 OPV is a UH-60A retrofitted with Matrix's full-authority, fly-by-wire flight controls.
Mark Ward, Sikorsky's chief pilot, said this month that Sikorsky and L3Harris have fixed many of the data link issues related to flight test telemetry data since the first flight test but that "we're still not up to the maximum range we'd like."
Sikorsky has said that OPV technology has been through more than 300 hours of flight testing through DARPA's ALIAS program on rotorcraft and fixed wing platforms.
Igor Cherepinsky, Sikorsky's director of autonomy, has said that Sikorsky's goal in fielding OPV technology is preventing Controlled Flight Into Terrain and Degraded Visual Environment issues and accidents.