The Army on Thursday conducted another successful test of its future missile defense command platform developed by Northrop Grumman [NOC], as the company readies for the start of initial operational test and evaluation and a production contract award early this fall.
The latest risk reduction effort for the Integrated Air and Missile Defense (IAMD) Battle Command System (IBCS) was conducted at White Sands Missile Range in New Mexico and featured the "widest variety of sensors to date," to include incorporating the Marine Corps' new AN/TPS-80 Ground/Air Task-Oriented Radar (G/ATOR) system, also built by Northrop Grumman, in an electronic attack scenario.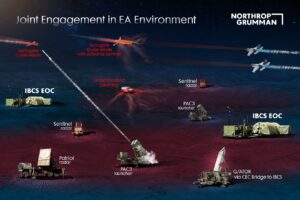 "The integration of additional sensors from multiple services continues to show the power inherent in the IBCS architecture and design to incorporate and integrate joint sensors across multiple domains," Christine Harbison, the company's vice president for combat systems and mission readiness, said in a statement. "By enabling joint operation and utilizing multiple sensors operating in various bands, IBCS was able to operate through the electronic attack environment so soldiers can identify, track and ultimately intercept the threat."
IBCS was used to track two surrogate cruise missile targets, one performing a jamming mission and another simulating a target on friendly assets, ultimately completing the test objective to shoot down the threat target with the launch of a PAC-3 interceptor, according to the company.
The Army has now conducted six developmental flights tests for IBCS along with two additional operational tests completed during last year's Limited User Test event.
IBCS is the Army's program to field a new missile defense control network that integrates the service's full range of "sensor to shooter" capabilities, which officials have said will enable a new "joint kill web" concept, with the service investing $2.7 billion in the program as of early this year.
In January, the Pentagon signed off on the Milestone C decision for IBCS, allowing the program to move into production (Defense Daily, Jan. 13).
Harbison told Defense Daily that a production deal is expected in the final quarter of this fiscal year and that the company's active production is ready to "immediately transition into [low-rate initial production]."
The latest test was also the first time IBCS was bridged together with the Navy's Cooperative Engagement Capability, which enabled IBCS' integrated fire control network to share track data gathered by the Marine Corps' G/ATOR radar.
The demonstration also involved two F-35 fighters, two Army Sentinel radars, and one Army Patriot radar integrated with the IBCS' network to further provide comprehensive tracking data, according to Northrop Grumman.