The Navy awarded General Dynamics' Electric Boat [GD] a $9.47 billion contract modification on Thursday for full construction of the first Columbia-class ballistic missile submarine (SSBN-826) and continuing advanced construction for the second vessel.
Assistant Secretary of the Navy for Research, Development and Acquisition James Geurts told reporters during a press call ahead of the announcement that full construction for the second ship, recently named the future USS Wisconsin (SSBN-827), is scheduled for fiscal year 2024, assuming it is authorized and appropriated by Congress at the time.
In June, the Navy awarded GD an $869 million modification to continue Columbia-class procurement work with a price option for the first two submarines that would increase the total value to $9.5 billion, subject to appropriations and authorization by Congress (Defense Daily, June 22).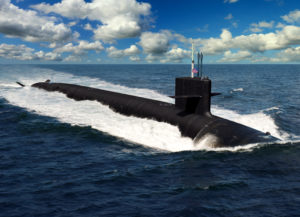 Geurts thanked Congress for their support of the program, particularly providing an anomaly in the continuing resolution allowing the contract award to remain on schedule.
At the end of September, President Trump signed a stopgap continuing resolution to keep the government open through Dec. 11 that included the exemption allowing the Navy to move to procure the first two Columbia-class submarines (Defense Daily, Oct. 1).
Geurts reiterated this "remains the number one acquisition priority program for the Department of the Navy and so getting this contract award on schedule is really important."
The contract specifically covers modifications exercising options for construction and test of the lead and second ships of the Columbia-class as well as associated design and engineering support.
"This modification to the integrated product and process development (IPPD) contract supports the fiscal 2021 construction start of the lead ship (SSBN 826) and advance procurement, advance construction, coordinated material buys and full construction of the follow hull (SSBN 827) in fiscal 2024," the Defense Department announcement said.
Work will mostly be split between prime contractor GD Electric Boat locations in in Groton, Conn. (36 percent) and Quonset Point, R.I. (17 percent) as well as subcontractor Huntington Ingalls Industries [HII] shipyard in Newport News, Va. (25 percent). This work is expected to be finished by April 2030.
National Sea-Based Deterrence Fund (NSBDF) funding of $545 million and FY 2020 NSBDF funding of $20 million will be obligated at the time of award and will not expire at the end of this fiscal year.
Columbia-class Program Manager Capt. Jon Rucker told reporters on the call how the NSBDF are being used in this award.
"So in the National Sea-Based Deterrence Fund we have incremental funding authority and we now have it as part of the '21 budget and the continuing resolution – the kind of authorities in there for us to be able to incrementally fund the lead ship."
Another part of NSBDF funds are going toward advanced construction in advanced procurement for the second submarine.
Rucker noted they are also using continuous production authority to build the missile tubes.
Rear Adm. Scott Pappano, commander of Program Executive Office Columbia, also told reporters today this award "marks a significant milestone towards delivering at least 12 Columbia-class submarines, the first of which will deliver FY '27 and be on its first patrol early in FY '31."
"Vendors have delivered 13 missile tubes, 11 of which have been completed and tactically outfitted to supply Electric Boat to support both U.S. and UK shipbuilding construction programs. But now the real work does begin in earnest. We will continue to work closely with Electric Boat and Newport News Shipbuilding, our shipbuilding partners, to execute the construction schedule to meet our aggressive but achievable delivery schedule for the Columbia," Pappano added.
Rucker also noted the team has done numerous design reviews, production readiness reviews and risk reduction efforts but there is much more work ahead of them.
"We've done those to make sure we're ready to execute this full construction. We're at a high state of design completion, which also helps us enable efficient construction. Don't get me wrong, we have a ton of work ahead of us and we're all excited to be able to execute that. We know that there are going to be challenges and we intend to attack & manage them in a timely and efficient manner."
Rucker said the Columbia-class includes over 5,000 suppliers over 48 states supporting the program and "we will work with this integrated team to successfully build, test and deliver Columbia and the rest of the class on schedule and within budget."
Rucker added the advantage of this award including the option for advance work on the second ship "is that it allows us to have it fully priced for both. We have the schedule locked in. The shipbuilders use that in a manner efficiently to work with the supplier base, because it's a known demand."
Separately, Rucker said DoD cost requirements mean the average unit cost per submarine is required to stay under $8 billion in calendar year 2017 dollars. He noted the lead ship is estimated to cost $7.44 billion in calendar year 2017 dollars, below that requirement, and they expect follow-on vessels to go down further.