Huntington Ingalls Industries [HII] won a $2.2 billion contract modification from prime contractor General Dynamics
Electric Boat [GD] to help build the first two Columbia-class ballistic missile submarines (SSBNs), the company said Nov. 23.
GD is the prime contractor to build both Navy nuclear-powered submarines, the Virginia-class attack submarines and the new SSBNs. Under both vessels, HII is a subcontractor and both companies build different parts of the vessels.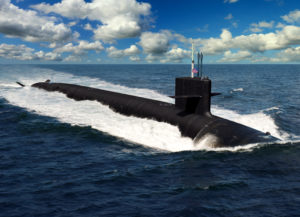 Earlier this month, the Navy awarded Electric Boat a $9.47 billion contract modification for the full construction of the first new SSBN, the future USS Columbia (SSBN-826) and continued advanced construction work on the second submarine, the future USS Wisconsin (SSBN-827) (Defense Daily, Nov. 5).
This latest modification for HII work covers continued design support efforts and the construction and delivery of six module sections for SSBN-826 and SSBN-827. HII is set to deliver the finished modules to Electric Boat for final assembly, the company said.
Huntington Ingalls Industries spokesman Duane Bourne told Defense Daily NNS' construction responsibilities include the bow and stern; sail and several rafted modules auxiliary machinery spaces 1 and 2; and the weapons space.
Module delivery dates are scheduled to begin in November 2022 with the last module delivery planned for January 2028.
"We are pleased to be a crucial design and manufacturing contributor to the Columbia-class program. This contract continues NNS' longstanding and strong commitment to the Navy's undersea enterprise through the design and construction of major modules and assemblies necessary to achieve program objectives," Charles Southall, Newport News' vice president of Columbia-class Submarine Construction, said in a statement.
"For Columbia, Newport News Shipbuilding will manufacture major Columbia assemblies and modules leveraging our experience from Virginia-class module production. We will continue to deliver Virginia-class attack submarines as Electric Boat performs final assembly, test and delivery of all ships of the Columbia-class SSBNs," Bourne added in a separate statement.
HII previously started advance construction activities for the future USS Columbia (SSBN-827) in May 2019 under an Electric Boat contract.
The Columbia is planned to be delivered in fiscal year 2027 and expected to be on its first patrol by early fiscal year 2031.