Navy officials on Thursday said the service and General Dynamics' Electric Boat [GD] agreed to an 84-month build sequence for the new Columbia-class ballistic missile submarine (SSBN) but are trying to shorten the timeline while the service aims to fix Virginia-class construction delays before it could impact the Columbia work.
On Thursday the Navy awarded GD a $9.47 billion contract modification for full construction of the first Columbia SSBN and to continue advanced construction work on the second vessel (Defense Daily, Nov. 5).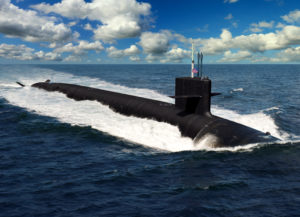 Huntington Ingalls Industries' [HII] Newport News Shipbuilding is working as a subcontractor under Electric Boat on the SSBNs to build part of the vessels, as it does for the Virginia-class attack submarines.
Columbia-class Program Manager Capt. Jon Rucker told reporters during a press call Thursday they expect to deliver the ship in fiscal year 2027 and then it will proceed to the normal post-delivery period and certify systems before it goes out on patrol in early FY '31.
He also noted the Navy and GD agreed to an 84-month build sequence threshold for the lead vessel, but they are seeking to shorten it to add more margin into the program.
"It's a build sequence that has a threshold of 84 months from starting essentially in October and we're targeting to that margin for about 78 months right now to build that margin on the back end."
During the same call, Electric Boat President Kevin Graney said they worked hard to get down from the 84 months threshold to the goal of 78 months.
"There is an old saying in shipbuilding: you don't know what you don't know, particularly on a lead ship and what we're concerned about is making sure we've building in some margin, so we're pushing on ourselves to get that turned around more quickly than we would otherwise so we've got some margin on the back end in the event we come into an issue that we've got to go resolve. And what we want to do is make sure we get that ship delivered so it will be out on patrol on schedule."
Graney said they do not have forecast on reducing the centers further below 78 months of follow-on submarines because they first have to figure out what it will take to build the ship.
"But clearly if we can get down to a 78-month ship, then I think the learning curve is going to drive us to better performance and the shorter time period time we can use to get a ship built, the cheaper they are. And so we are absolutely interested in driving that number as far down as we can," he added.
Rep Joe Courtney (D-Conn.), chairman of the House Armed Services seapower and projection forces subcommittee, welcomed the contract announcement.
"This isn't just a milestone for the shipbuilders at EB—the Columbia-class program will also be a major opportunity for industry partners up and down the supply chain for years to come, and a foundational piece for our region's economic future. Generations of shipbuilders and manufacturers will get their start working on this multi-decade program, and it's an exciting time to get more people into the pipeline for the jobs and opportunities that will come with the start of this effort."
Courtney, along with Sens. Richard Blumenthal and Chris Murphy (D-Conn.), plans to join Graney in Groton, Conn., for a public event to announce the new award and share additional details. Groton is the home of Electric Boat's shipyard.
Separately, Assistant Secretary of the Navy for Research, Development and Acquisition James Geurts underscored how the service and contractors are trying to sequence attack submarines before the Columbia work ramps up.
In an August earnings call, HII posted a steep drop in second quarter earnings based on charges at its shipyards related to updated cost and schedule assumptions across all programs. $111 million in added costs were tied to the Block IV Virginia-class attack submarine (Defense Daily, Aug. 6).
At the time, HII president and CEO Mike Petters said Newport News Shipbuilding moved resources elsewhere to meet delivery milestone commitments on near-term programs in line with customer priorities, which in turn disrupted work cadence and impacted their ability to rely on timing assumptions for the submarine work. This was at least in part tied to the impact of the COVID-19 pandemic.
"We've been working hard to mitigate those and account for those as we go forward on the program. In the case of what is the impact to that of Columbia – the real issue from my perspective is ensuring that we get those issues wrung out and get on stride by the time we hit Block V. Because Block IV will generally make it through the shipyard before Columbia's in its first kind of construction phase," Geurts said.
So while the Navy and industry team can mitigate risks on Block IV vessels, "we do need to be hitting our stride on Block V because that will be the one that's got to interweave with the kind of final large construction, assembly, test, checkout of the first Columbia."